2020 August, Lieutenant General Leslie Smith, The Inspector General, Office of the Secretary of the Army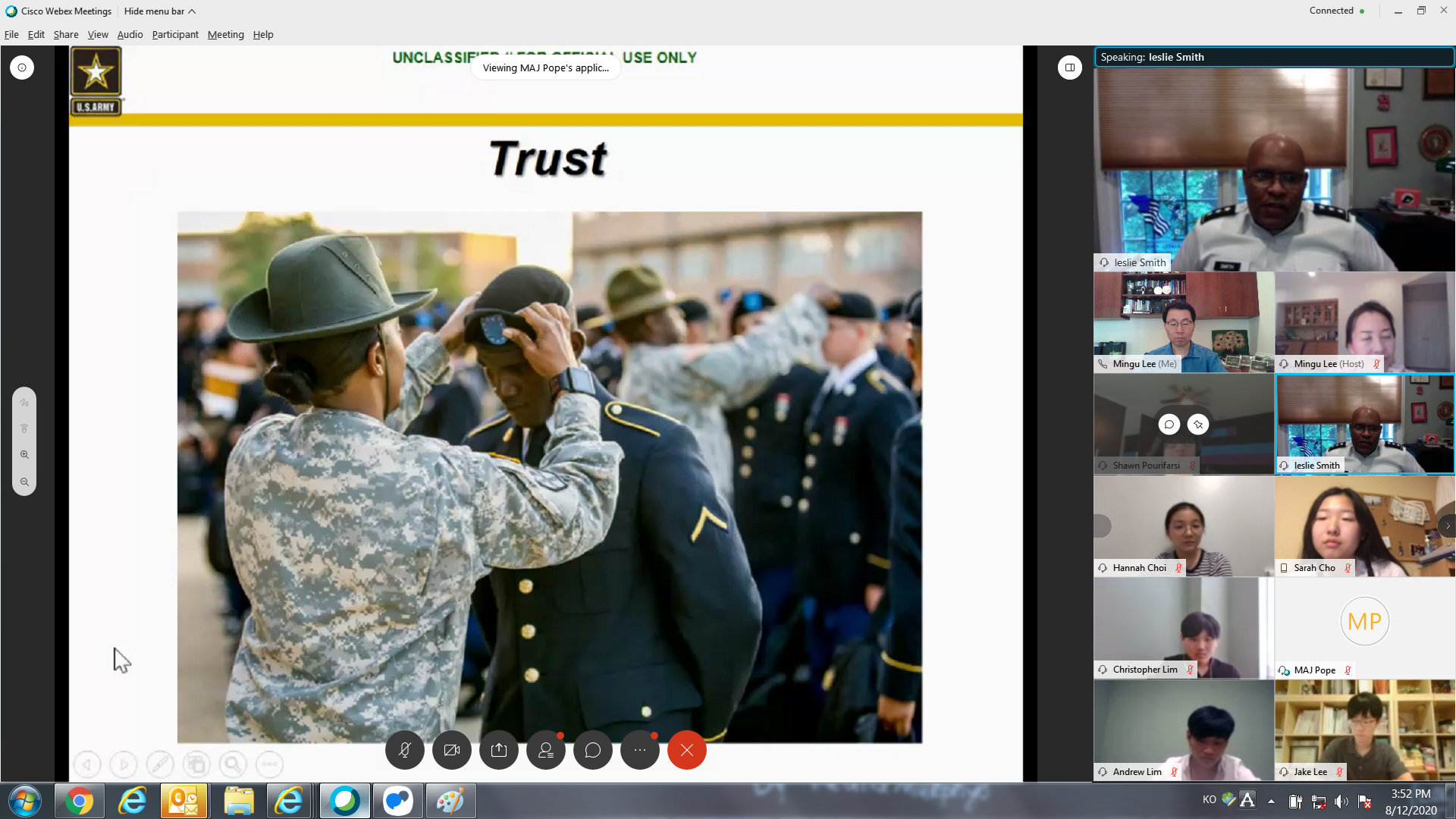 "I would like to thank you for the opportunity to talk to General Smith, it was an engaging and mind-opening experience as I learned about
trust
in the professional life that I will most definitely apply to my everyday life. Truly what he does and how his mind works is something extraordinary and I will be sure to take that conversation to heart and become a better student, person, and future engineer."
2020 August, TALK 2020 Intern Research Project presentation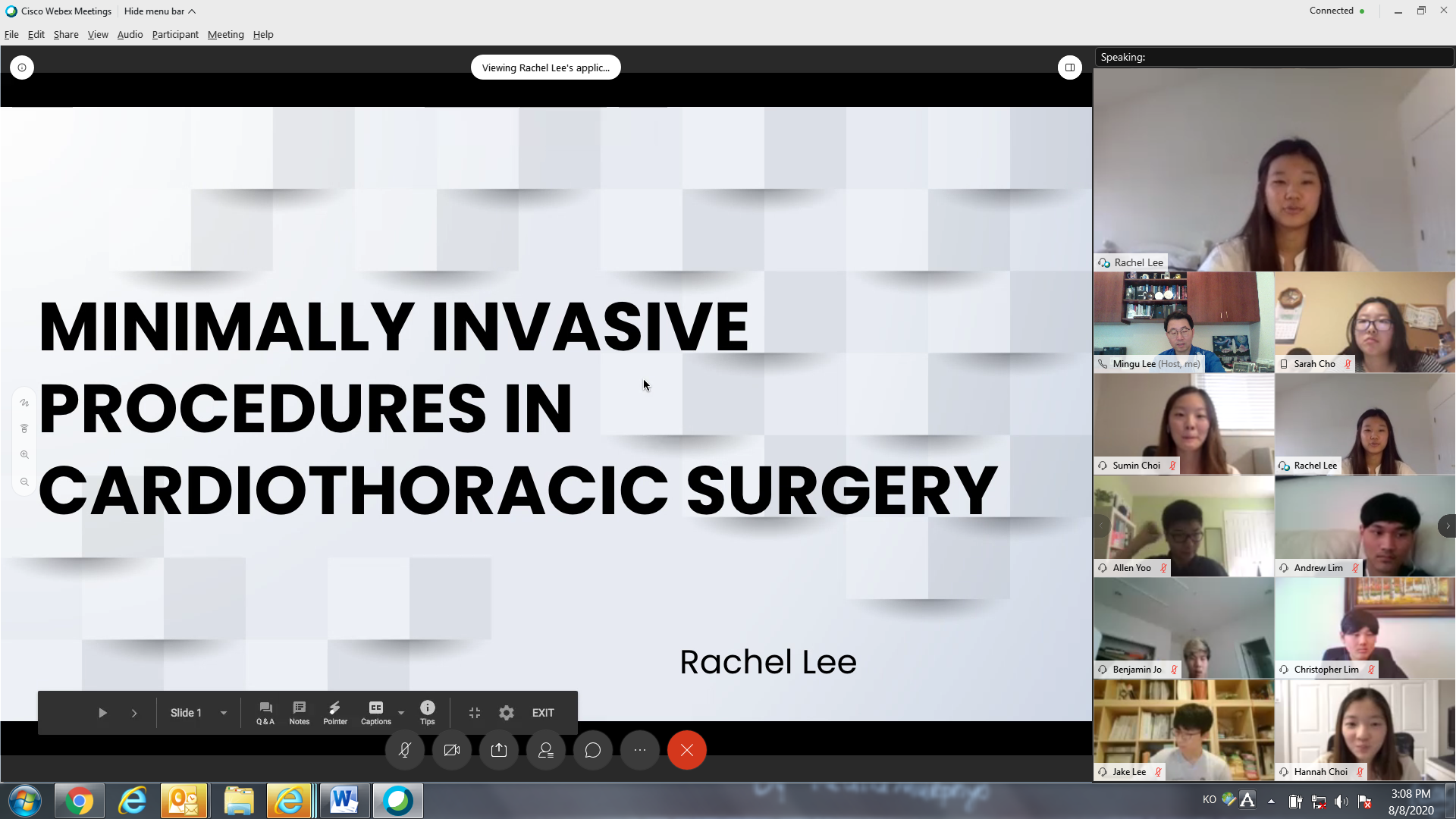 2020 July, President of Novartis Pharmaceuticals Corporation US, Victor Bultó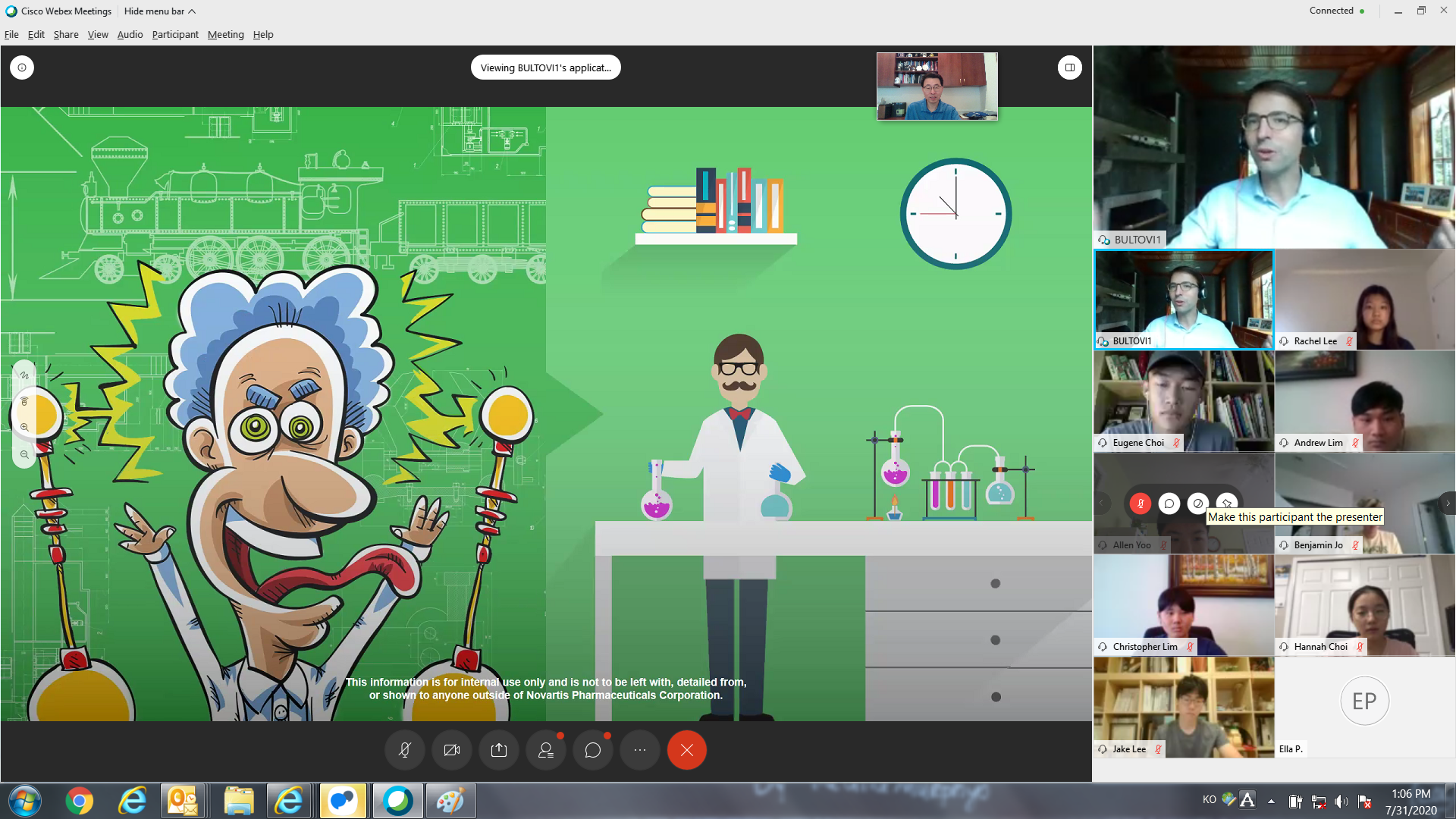 Facing challenges. No pain No Growth. Don't waste this crisis.

We had the pleasure of having Mr. Victor Bulto, President of Novartis Pharmaceuticals Corporation US, as a guest speaker. Mr. Bulto shared with us his story, his background, and how he came to be the person he is today. He discussed his experience with several career pathways and how he decided to follow his heart. He also explained the extensive process of developing new medications and initiating clinical trials for optimum effectiveness. Mr. Bulto encouraged all of us to
"Do what we love" and "Love what we do."
We want to thank Mr. Bulto for sharing such great information and advice and we send him our warm regards!
2020 July, Jonathan Chan, Attorney, Wilson Sonini (JD, Harvard Law School)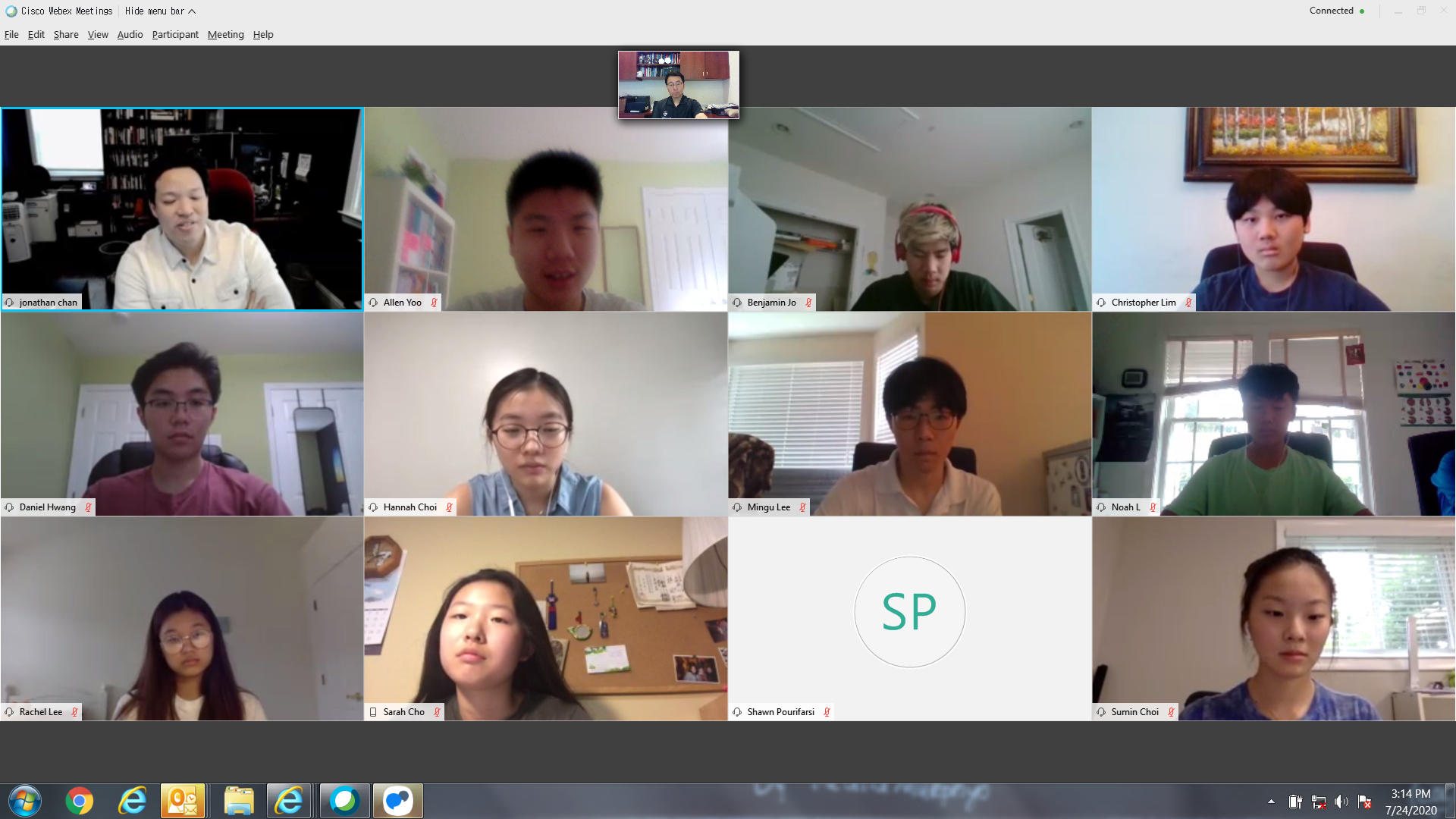 The TALK Interns had the opportunity to meet Jonathan Chan, an attorney at the Wilson Sonini Law Firm. As a graduate from the prestigious Harvard Law School, Mr. Chan talked about his journey through the workforce from working for Electronic Arts to the Silicon Valley Law Group. He also gave advice to the interns on what to do in their early student lives and how to be prepared for the future. Mr. Chan explained to the interns how important it is to pursue what you enjoy and how that will eventually lead to success. We would like to thank him for speaking with us and wish him the very best!
2020 July, Chief of Cardiology, VA North Texas Healthcare System, Dr. Subhash Banerjee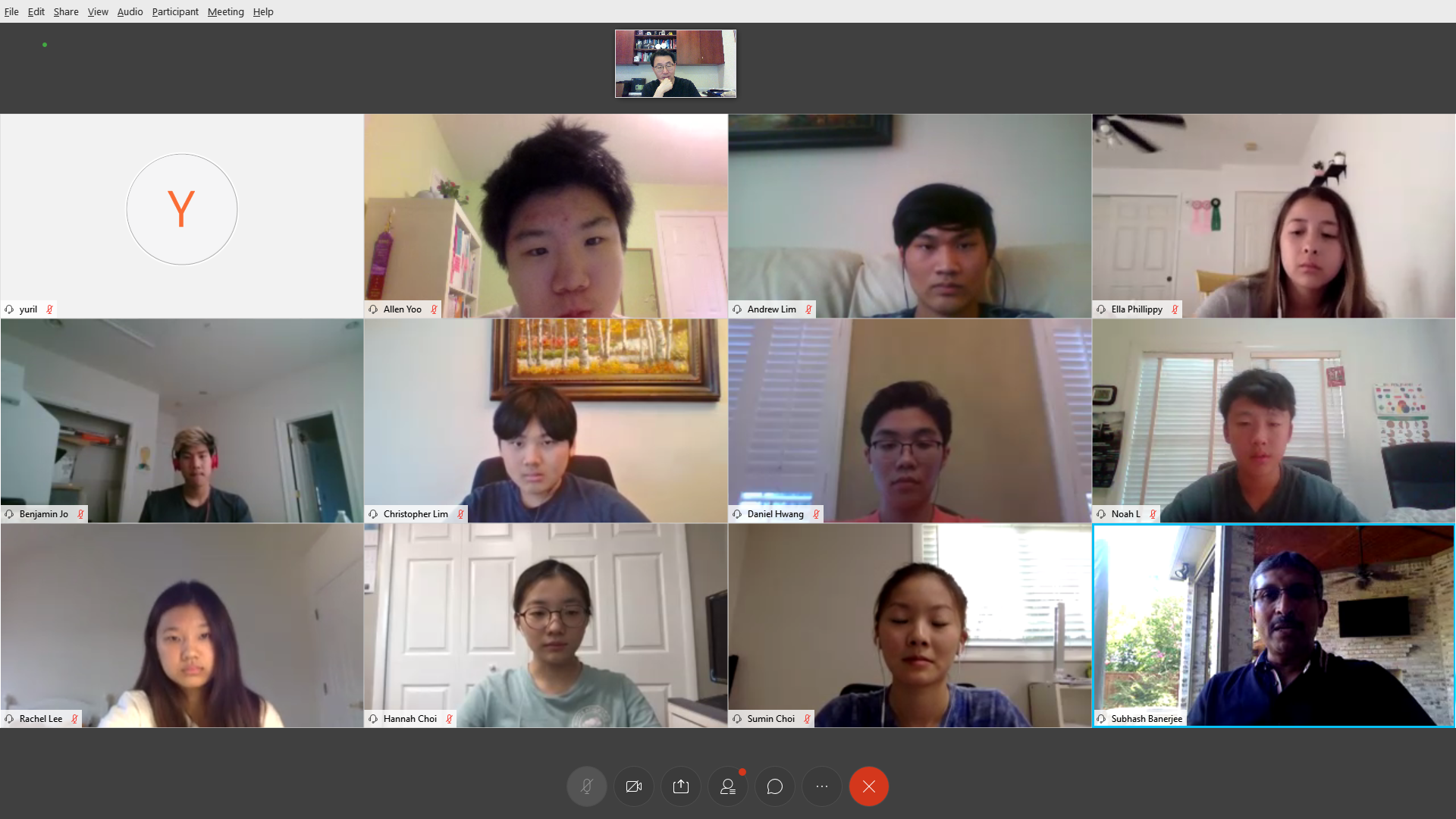 We had the honor of having Dr. Subhash Banerjee, Chief of Cardiology at the VA North Texas Healthcare System. Dr. Banerjee is an interventional cardiologist and endovascular specialist and frequently performs minimally invasive heart procedures with a catheter. He showed us images and videos of how the catheter works and discussed how the catheter has revolutionized cardiology, allowing physicians to treat many more heart diseases.
Dr. Banerjee emphasized the importance of pursuing a career that one is genuinely interested in and would thoroughly enjoy. He explained how he has pleasure in doing his own work everyday and thinks of it as a passion rather than a job. Thank you so much to Dr. Banerjee for speaking with us and we send our best regards to him!
2020 July, Microsoft's Chief Medical Officer, Dr. David Rhew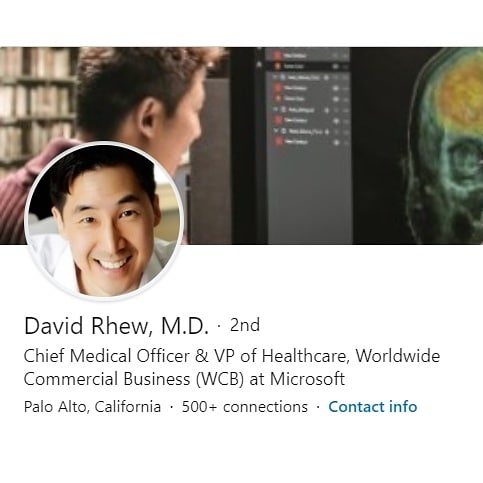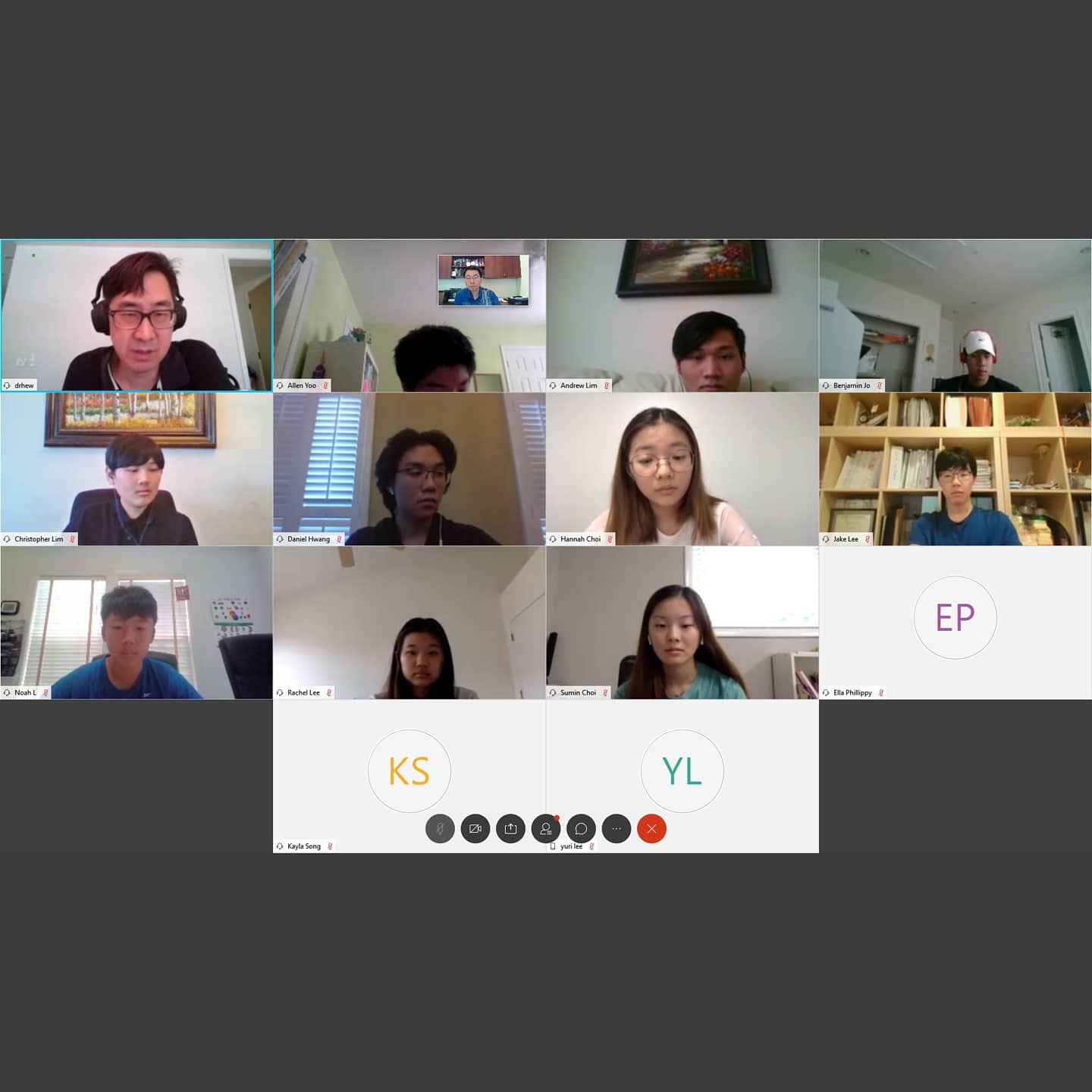 The 2020 Virtual TALK Summer Internship has begun! This year, we started off with a session with Microsoft's Chief Medical Officer, Dr. David Rhew. As a leading expert in bringing technology and healthcare together, Dr. Rhew has worked for and with several major companies in making telehealth a reality for many patients and hospitals. This session, he talked about the events of his life that led him to where he is today, and his role in creating the future of healthcare, especially during the COVID-19 pandemic.
He encouraged the students to have confidence in themselves, putting themselves out there and not letting traditional methods or career paths hinder them in their goals for success. We would like to thank Dr. Rhew for being such a great speaker and wish him all the best!
2020 May, Virtual Workshop for 2020 TALK Summer Internship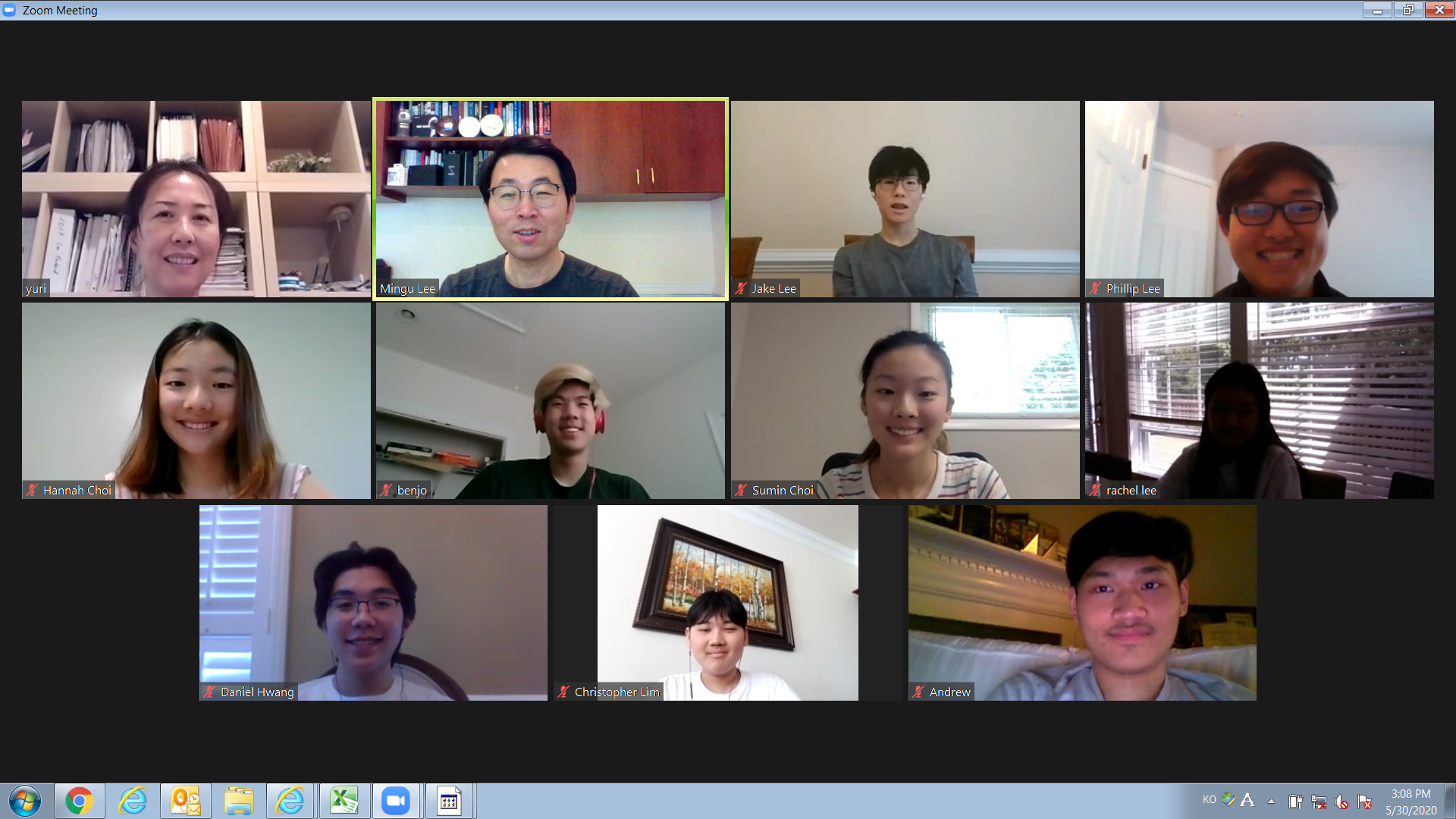 Interns from previous years and students interested in the 2020 Summer Internship program met online in order to plan for the upcoming TALK summer internship program.
2020 January, TALK Alumni
Nidhi Nagireddy,
Navy ROTC and Freshman at Texas A&M University
Daniel Yeh,
Sophomore at Carnegie Mellon University
Be unique. Do what you are pasionate about, not what others do.
2019 December, TALK Alumni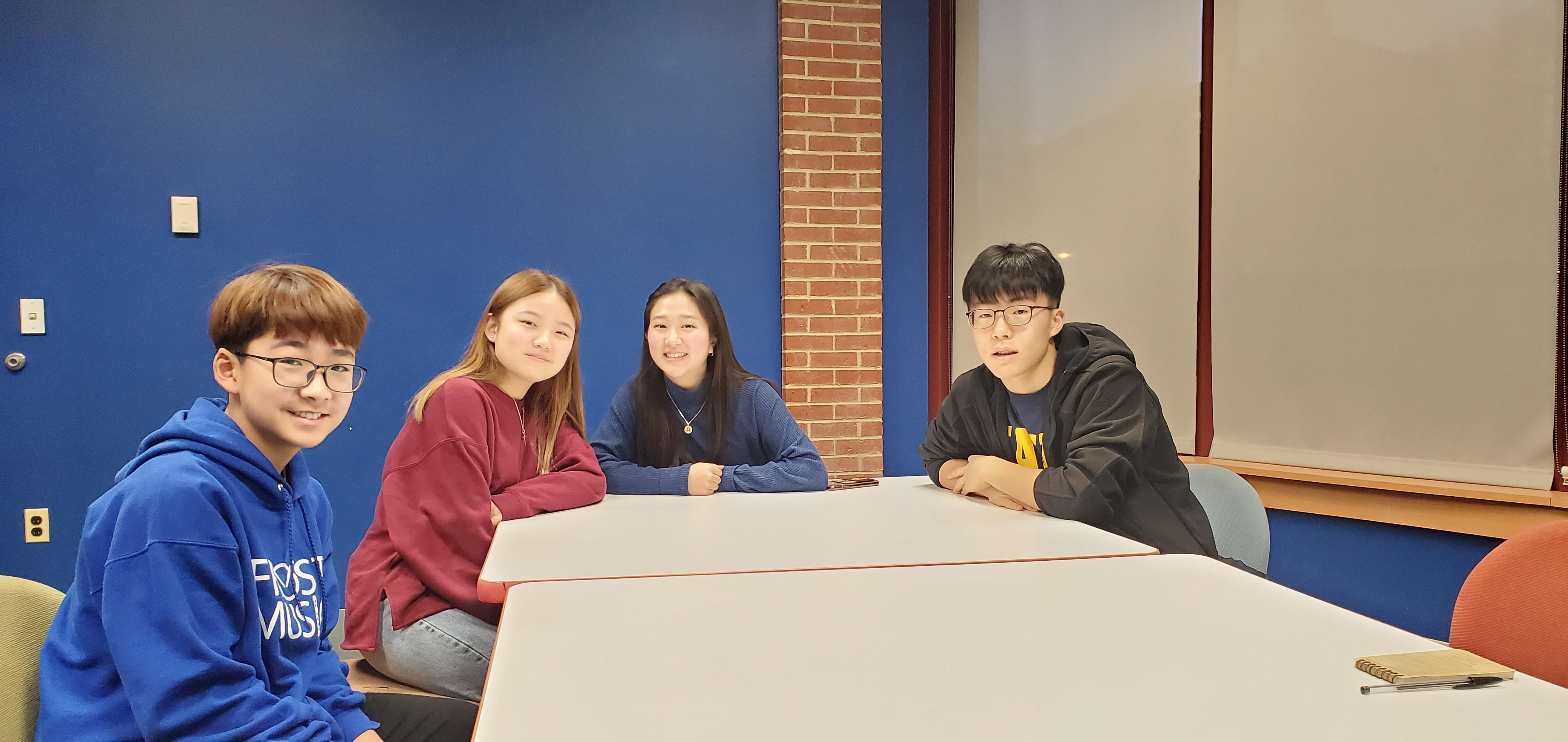 Tracie Kwon,
Freshman at Princeton University
Be unique. Do what you are pasionate about, not what others do.
2019 Oct, Society of Asian Scientists and Engineers National Conference & STEM Career Fair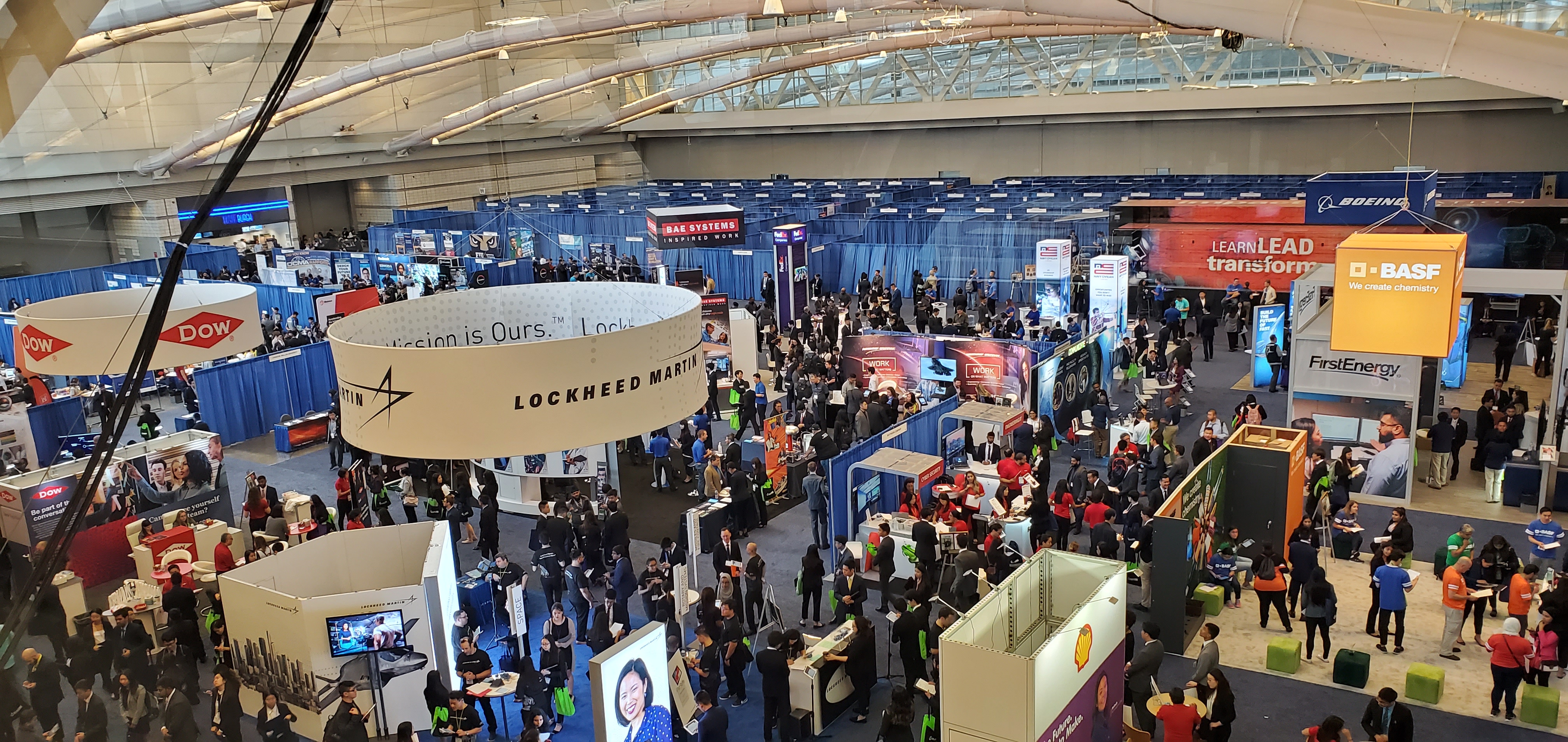 Dr. Mingu Lee, on behalf of TALK Youth Leadership, presented and participated in an Executive Panel. TALK alumni also participated at the event.
2019 Aug, TALK 2019 Intern Research Project presentation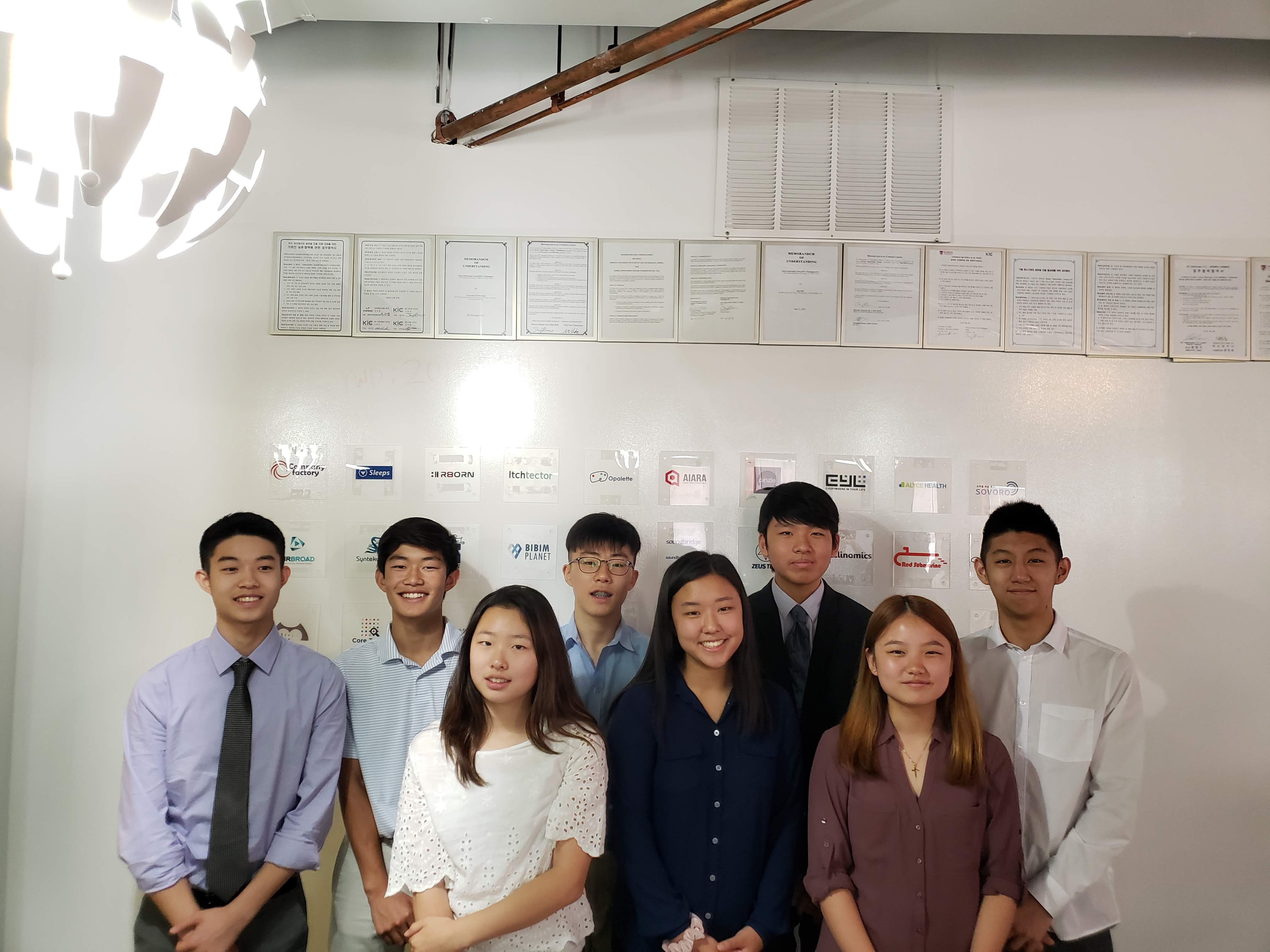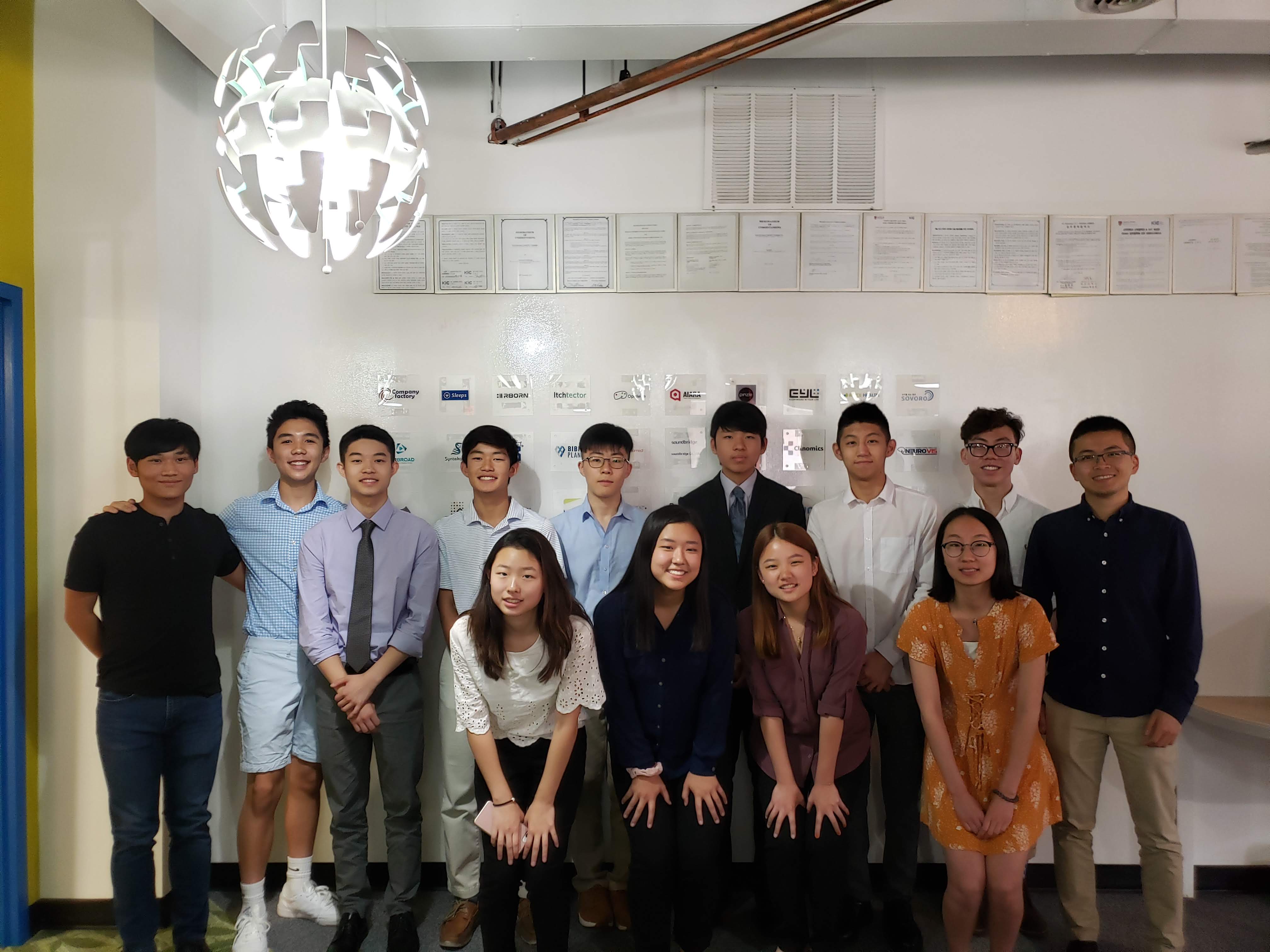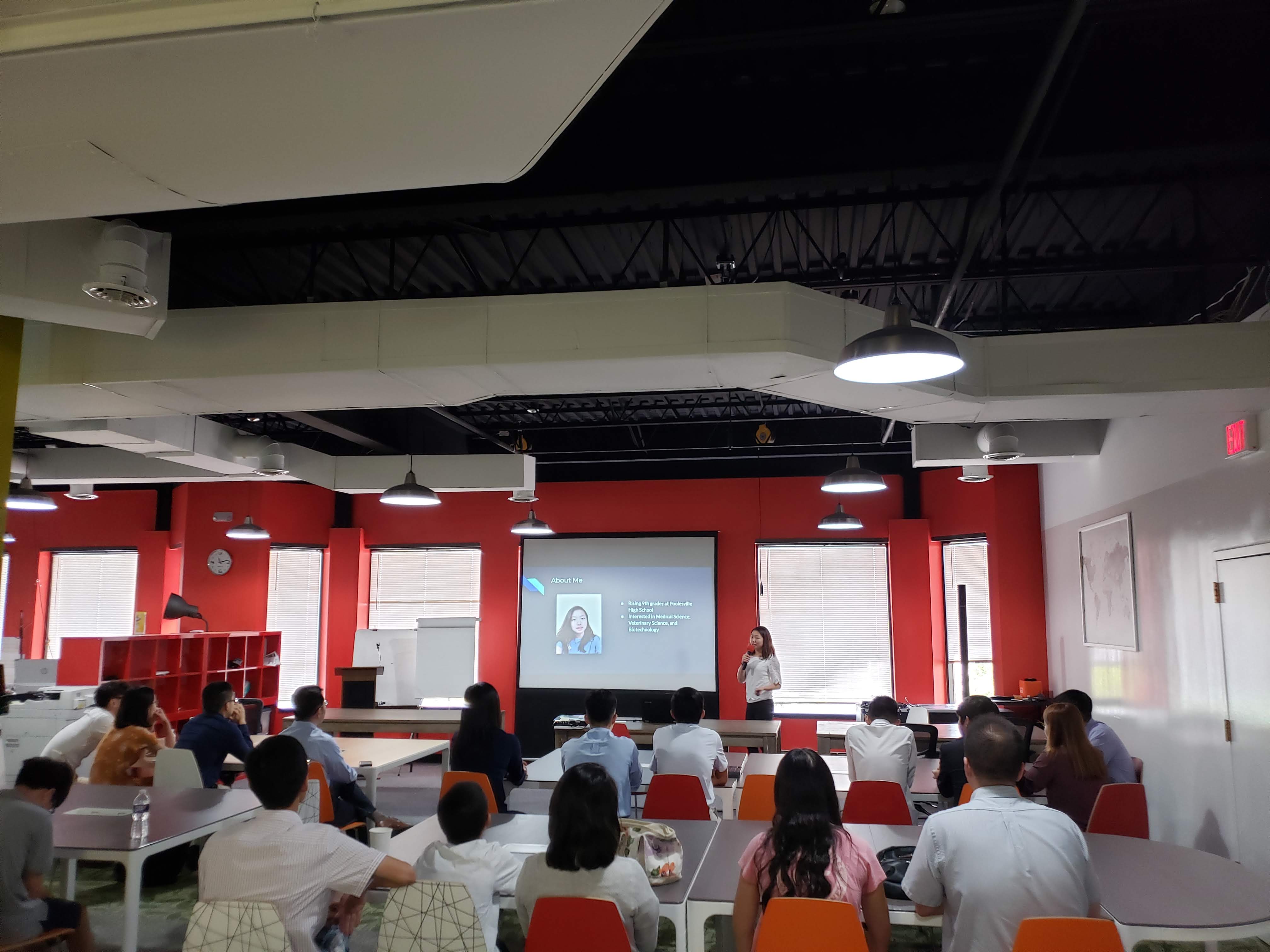 [Wearable Technology in the Medical Field]
[Oncolytic Viruses]
[5G Integration into Healthcare]
[Sports: medicine, science, and physical therapy]
[Augmented Reality in the Medical Field]
[Implementation of AI]
[International Relations]
[3D Bioprinting in the Medical Field]
TALK 2019 Summer Interns presented their research project to special guests.
Key Watch team, winners of the Samsung Breakthroughs that Matter Awards at the Washington DC MIT Medicine Hackathon
Representatives from NIH, NASA, and the Uniformed Services University


2019 Aug, MIT Hacking Medicine GrandHack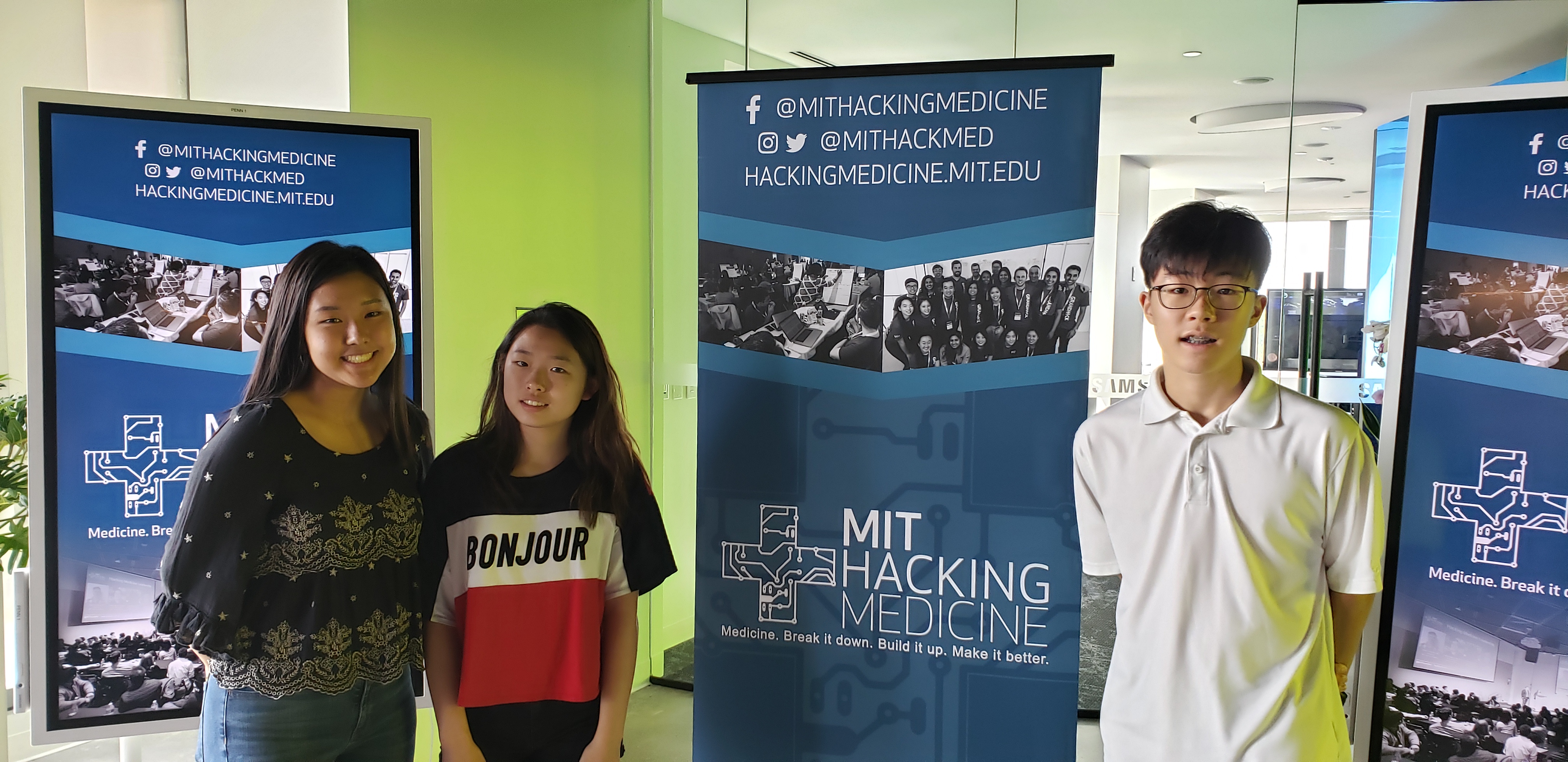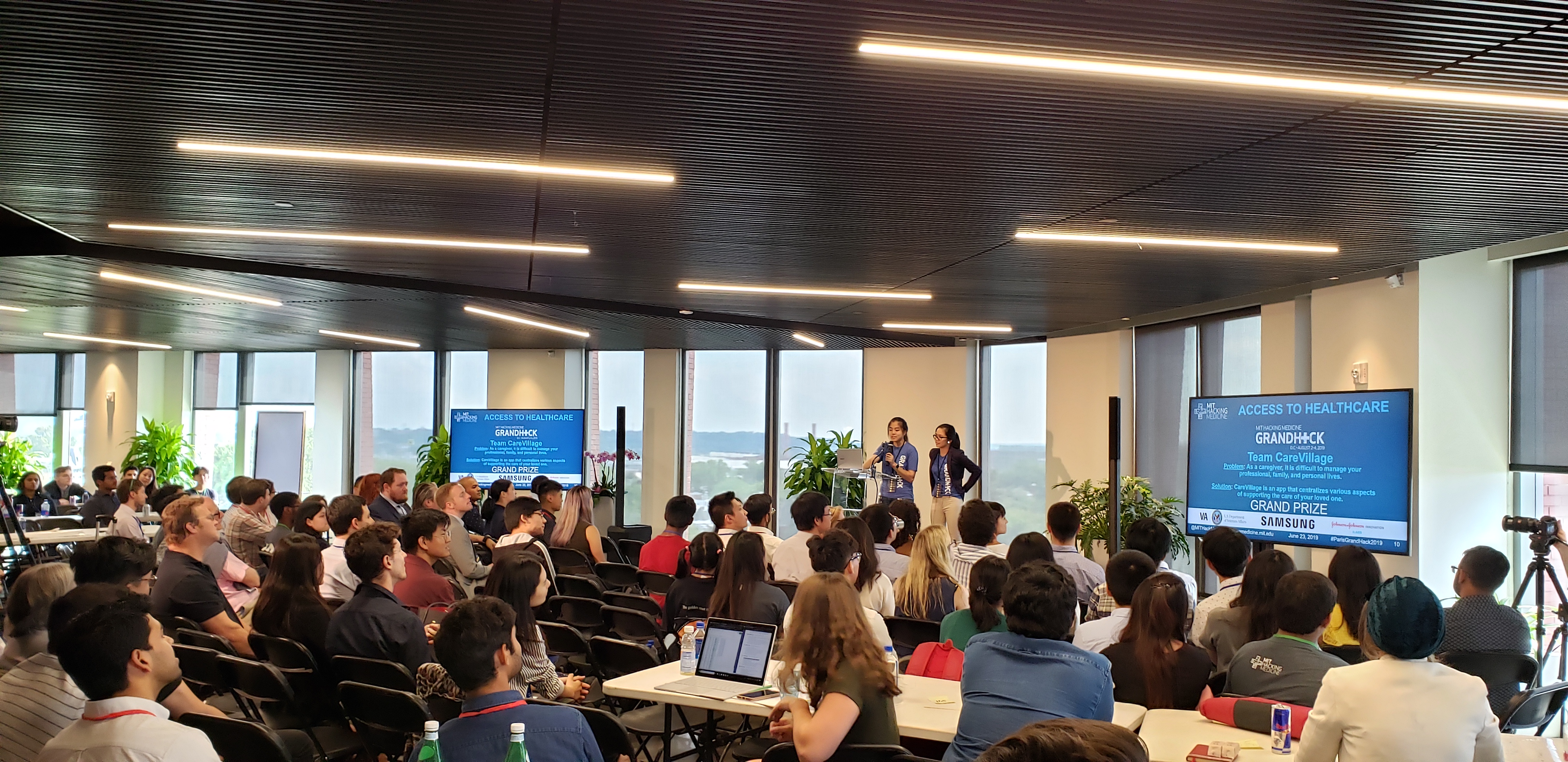 Interns watched the final presentations of the participants on the MIT Hacking Medicine Event in D.C. in the areas of Access to Healthcare, Mental Health & Professional Burnout, and Rare & Orphan Diseases.
2019 Jul, Walter Reed National Military Medical Center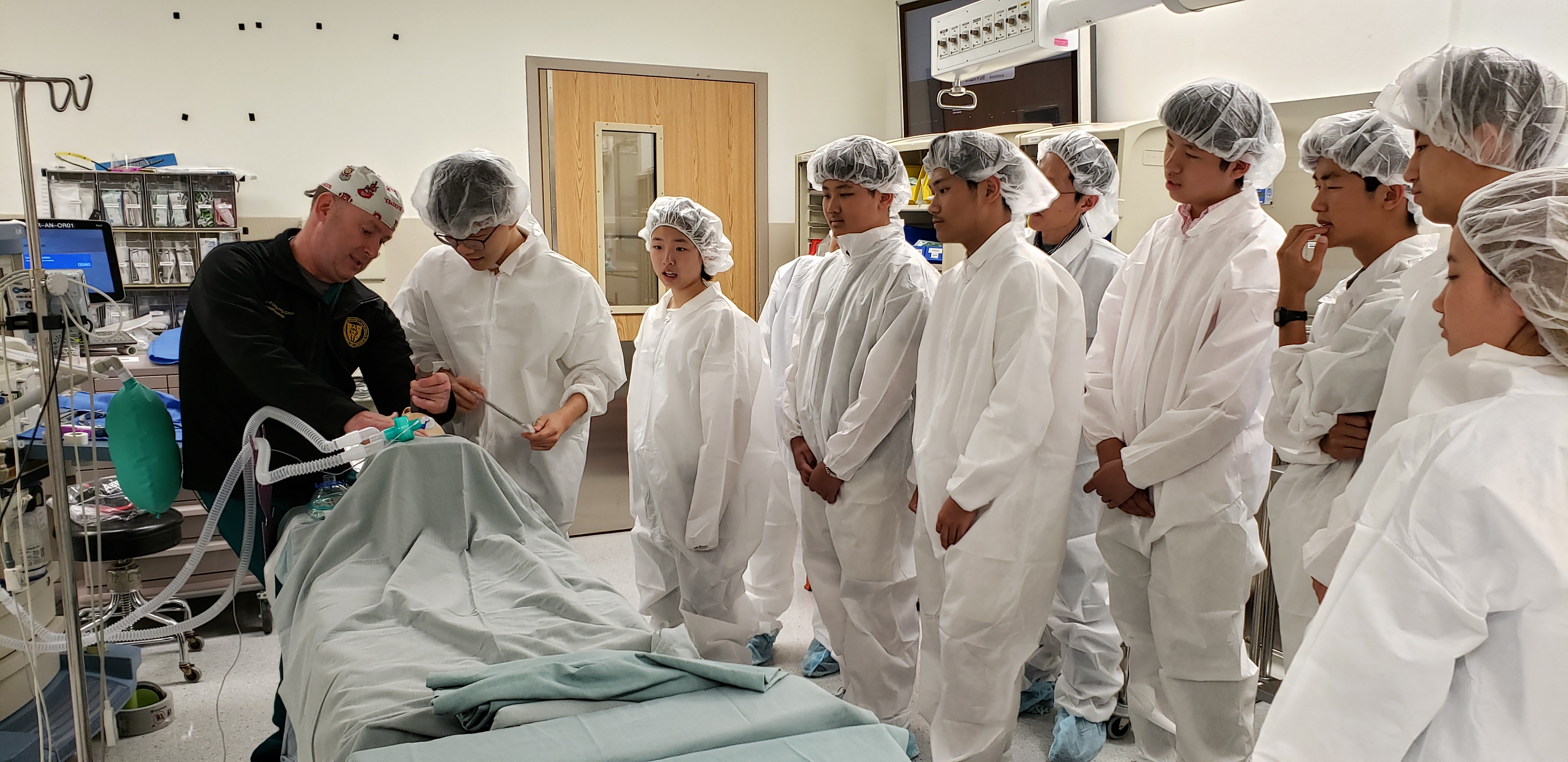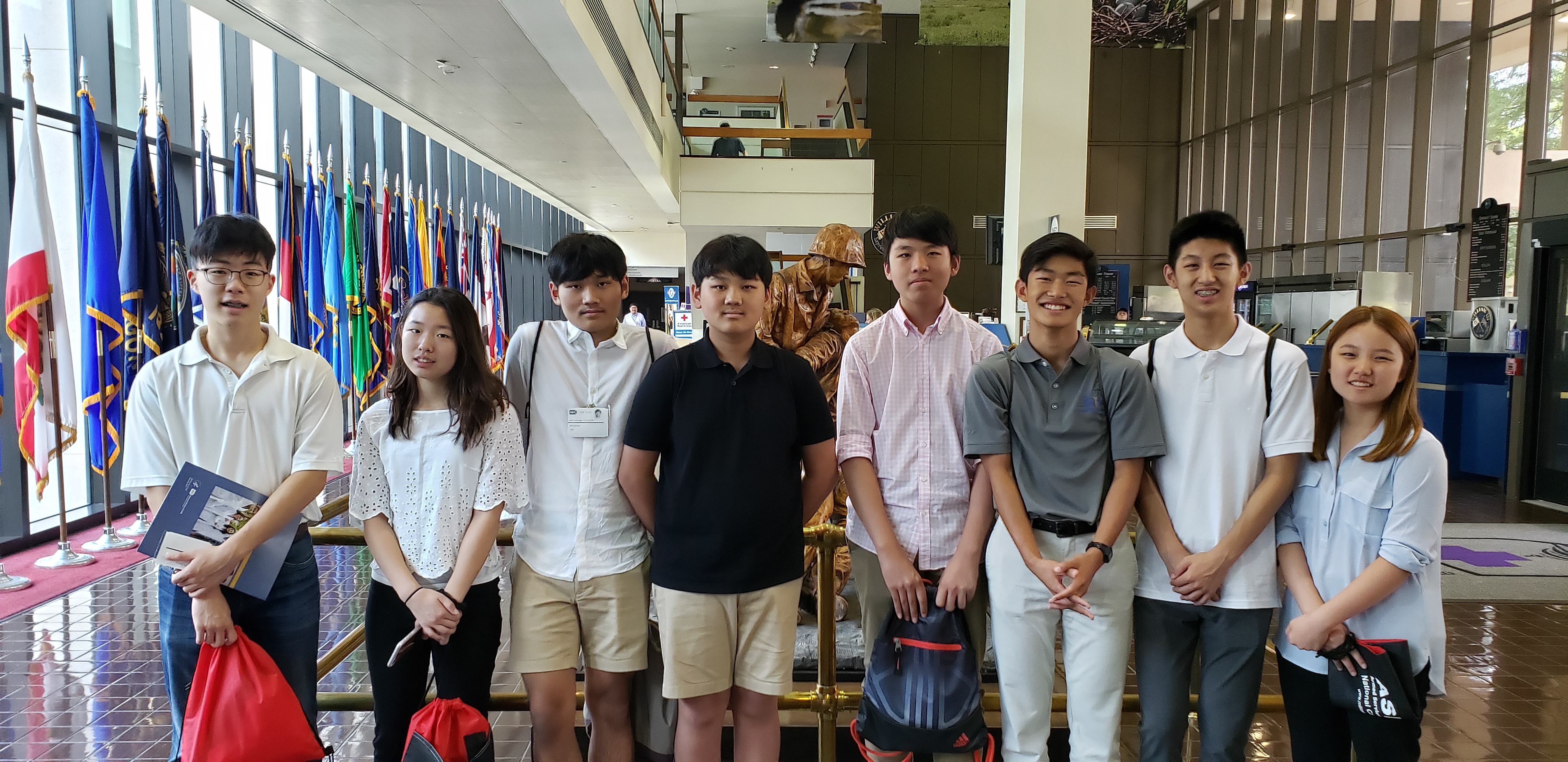 Students visited and experienced an operation room, and the medical tools and procedures necessary in a surgery at Walter Reed, one of the most prominent U.S. military medical centers.
2019 Jul, National Institutes of Health (NIH)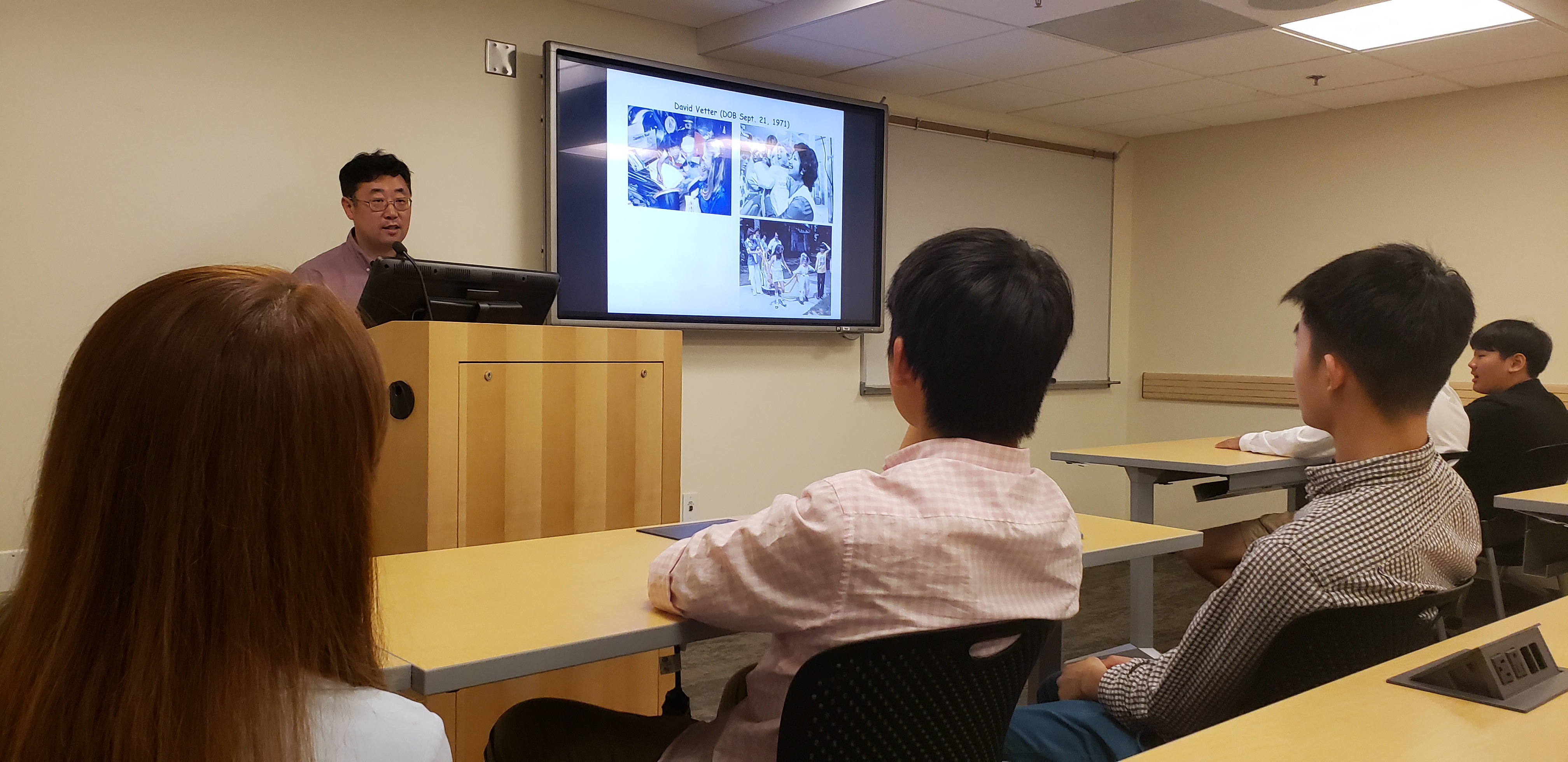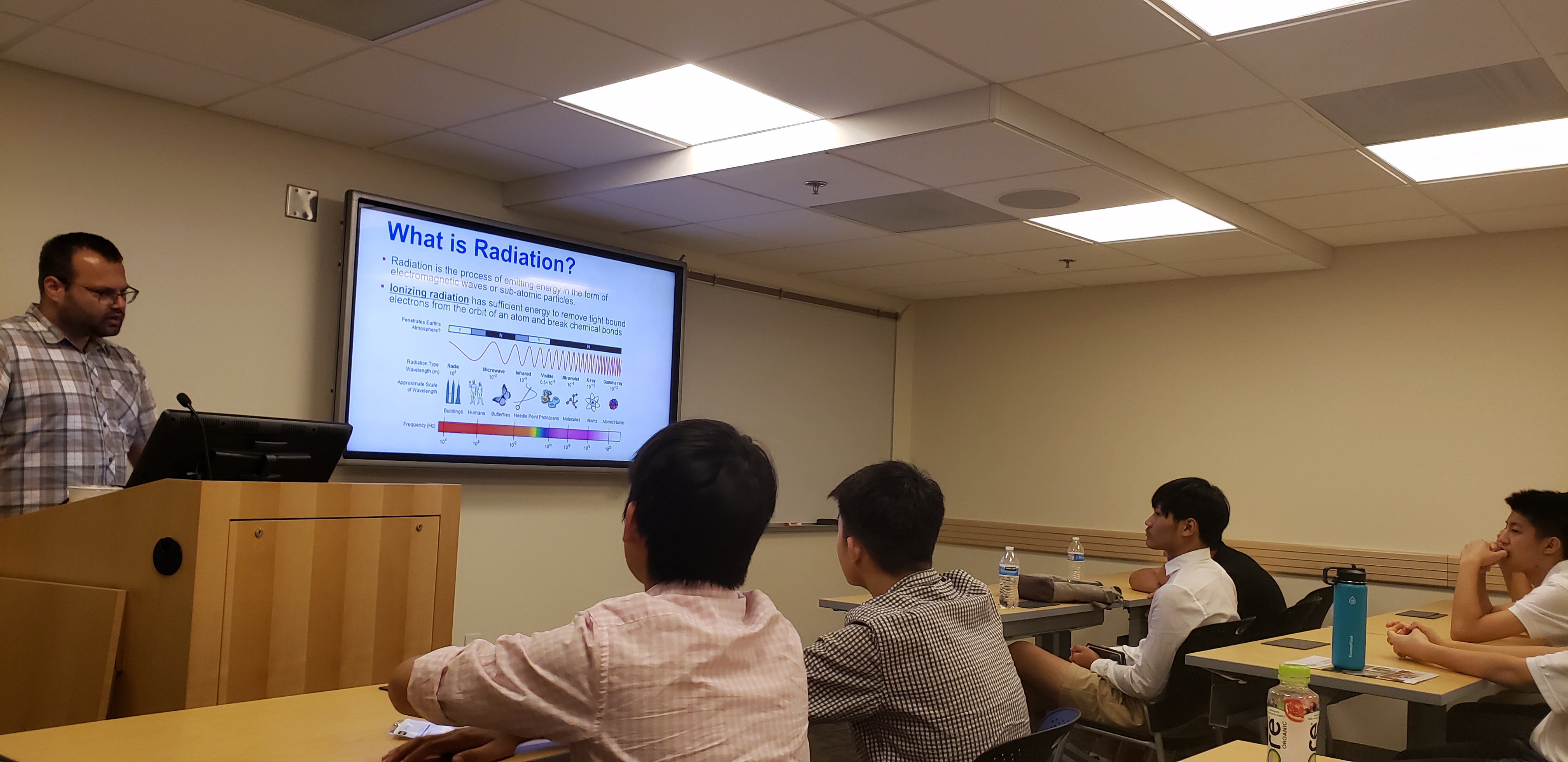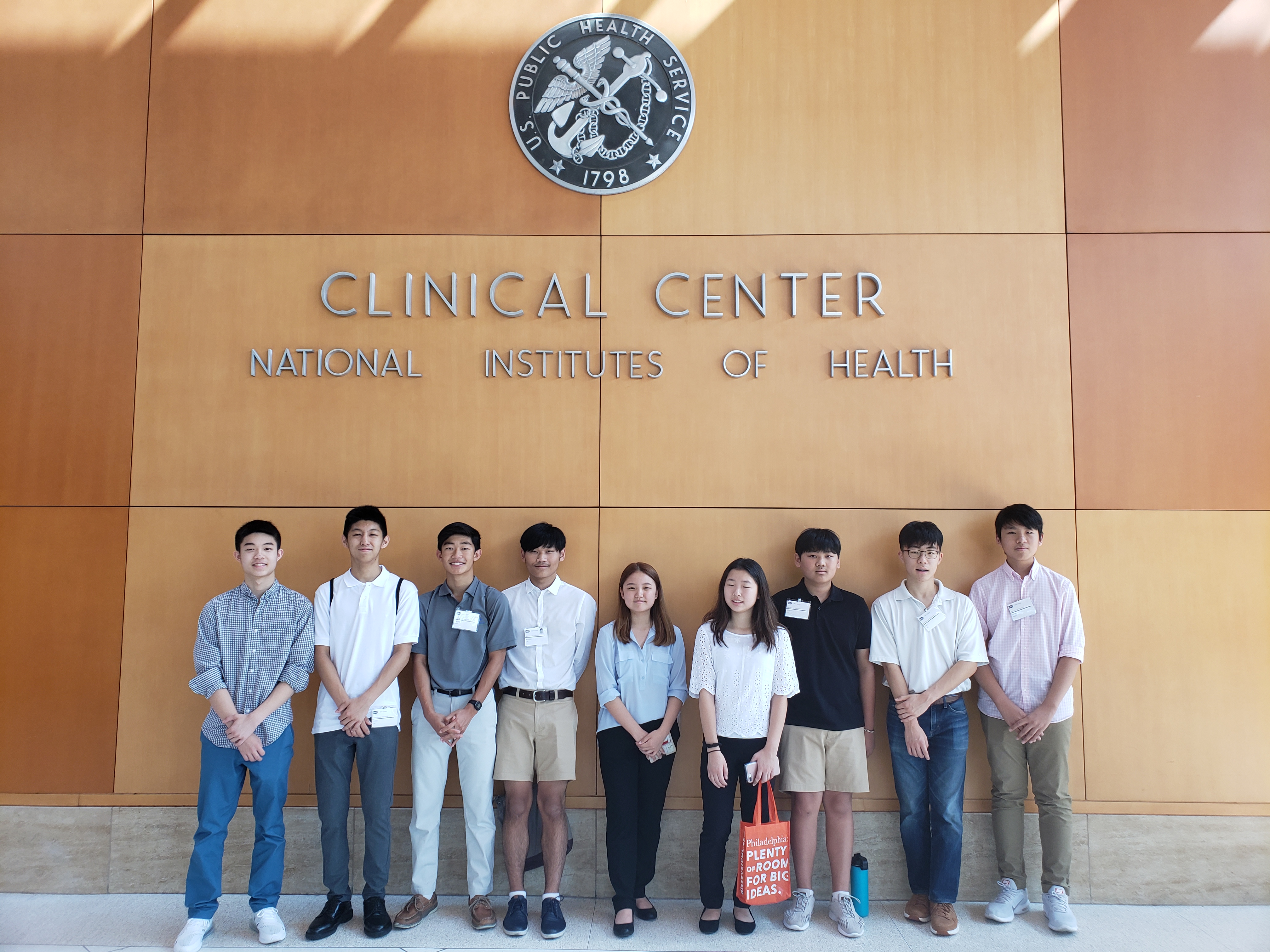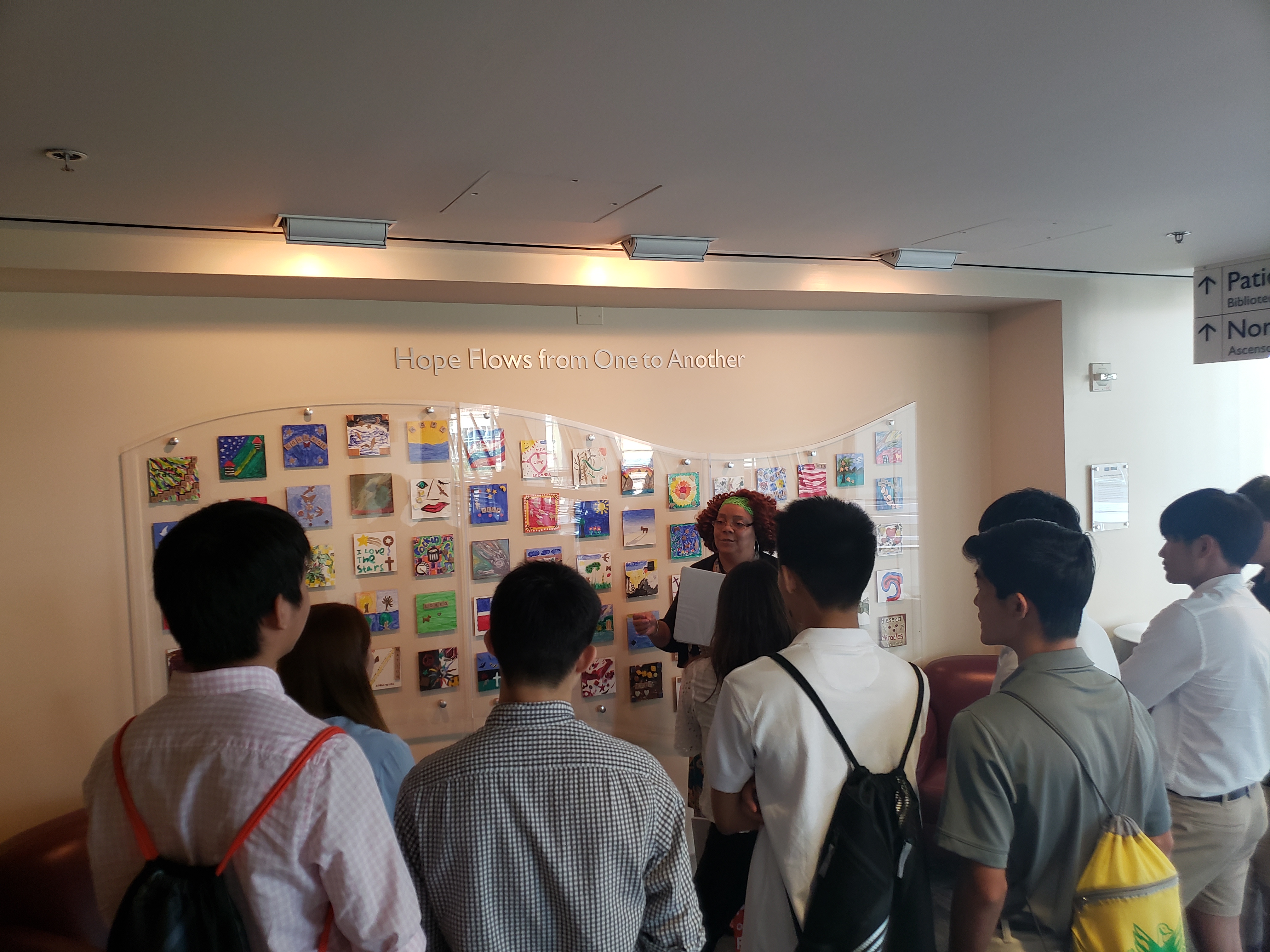 Dr. Junghyun Park, Senior Investigator, Experimental Immunology Branch
Dr. Matthew Mille, Staff Scientist, Division of Cancer Epidemiology & Genetics, Radiation Epidemiology Branch
2019 Jul, NASA Goddard Space Flight Center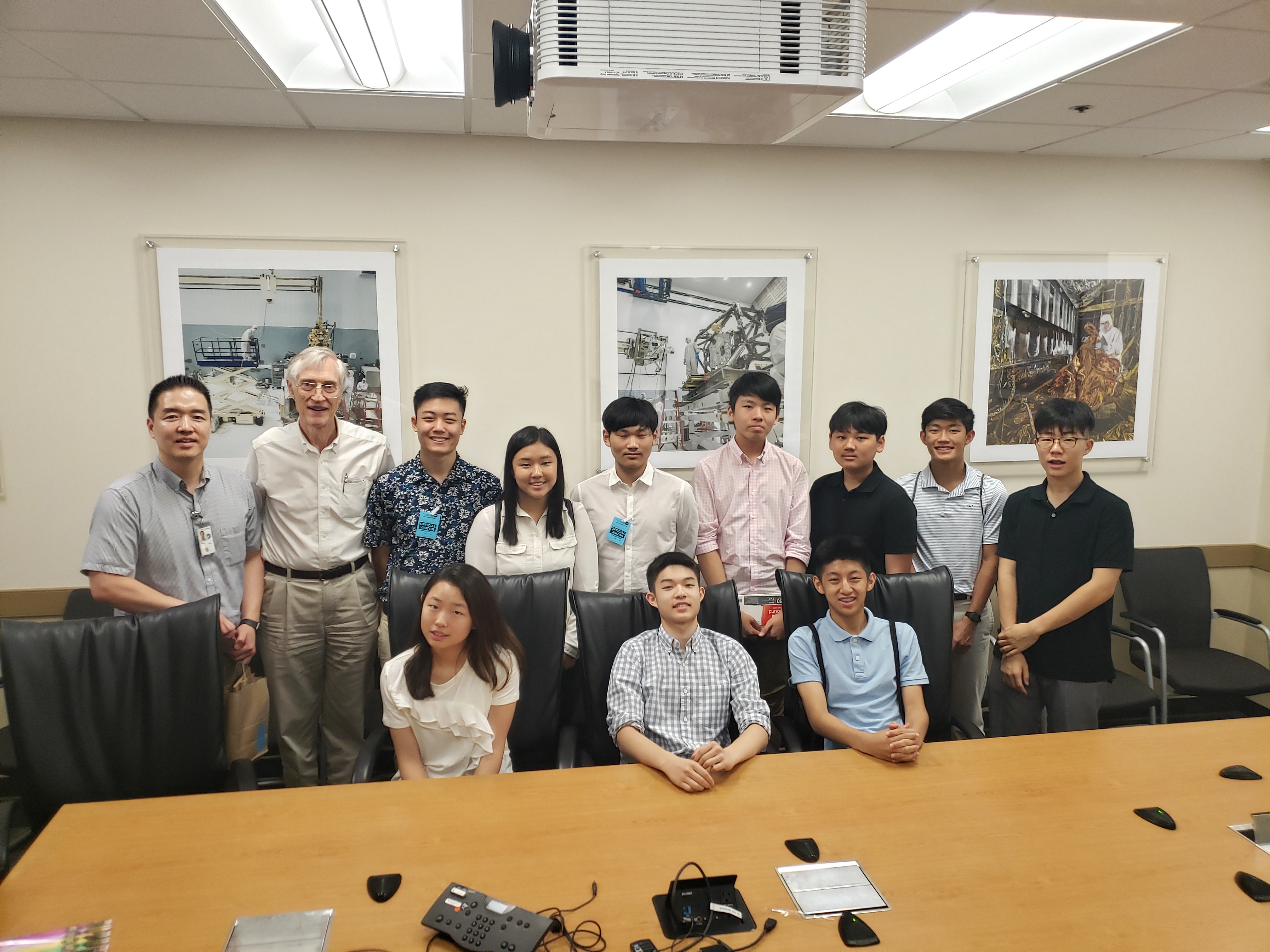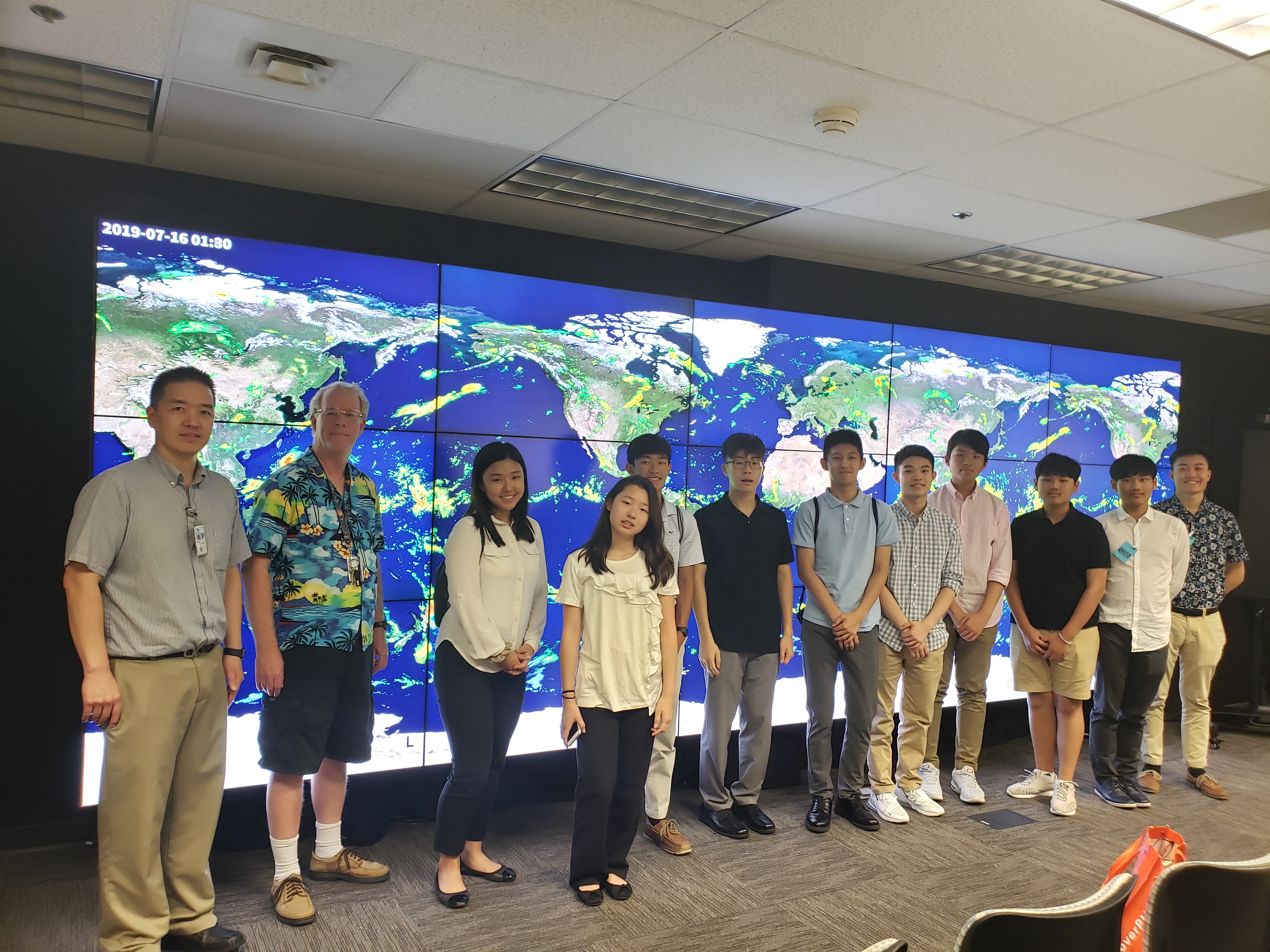 Dr. John C Mather, Senior Astrophysicist in the Observational Cosmology Laboratory, Nobel prize winner in Physics 2006
Jeff Bolognese, Branch Head in Mechanical Systems Analysis and Simulation Branch
Tom Bridgman, Senior Program Analyst
2019 Jul, Congressional Research Service Visit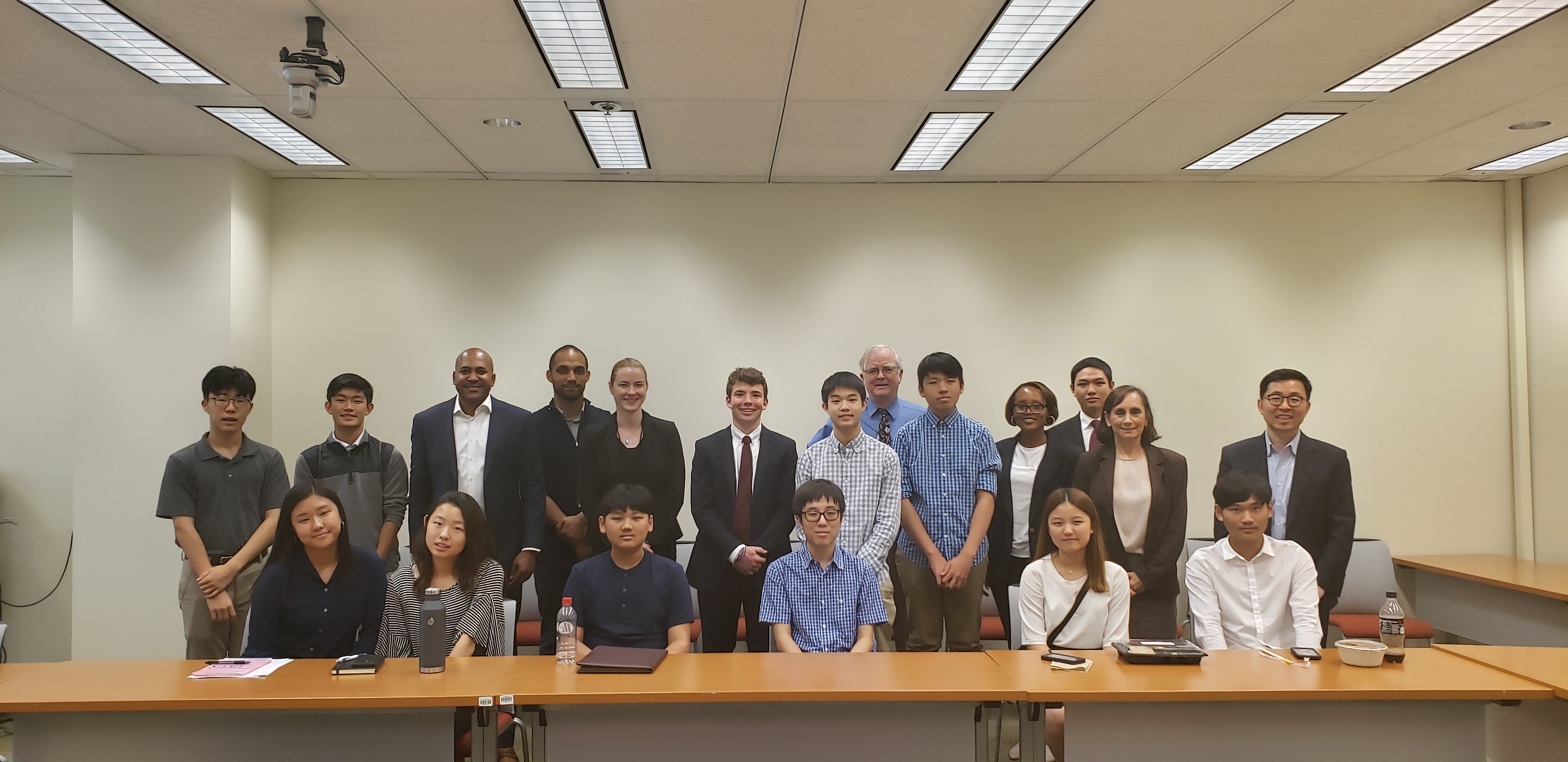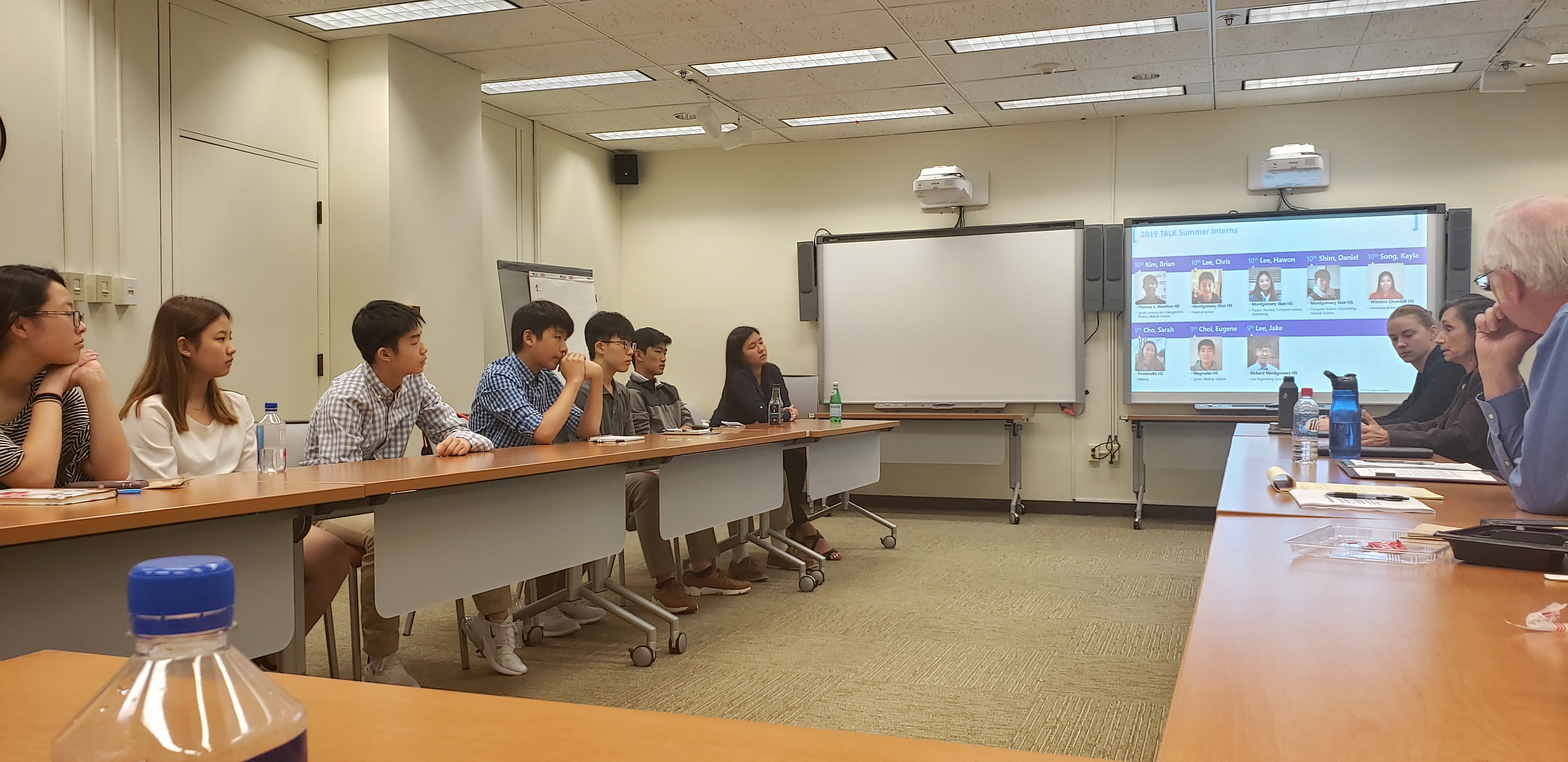 The Congressional Research Service, known as "Congress's think tank", works to provide Authoritative, Objective, and Non-Partisan information to members of the Legislative branch, as well as to the public. TALK Summer Interns participated in a Q&A session with CRS Analysts from a variety of backgrounds (ranging from Nuclear Weapons to Space Policy, Advanced Technology, and more) to learn about different fields of study, and what the job of an analyst at the CRS entails. Interns also took a tour of the Library of Congress, being able to see the Stacks (collections of many books published throughout history) and other parts of the library not available to the public.
CRS Welcome and Overview
Michael Moodie,
Assistant Director for Foreign Affairs, Defense and Trade at Congressional Research Service
Panelists
Stephen McCall (Analyst in Militaty Space, Missile Defense and Defense Innovation, Panel Moderator)
Amy Woolf (Specialist in Nuclear Weapons Policy)
Pat Towell (Specialist in U.S. Defense Policy and Budget)
Kelsi Bracmort (Specialist in Natural Resources and Energy Policy)
Kelley Sayler (Analyst in Advanced Technology and Global Security)
Kirt Smith (Research Assistant in Asia)
Peter Leutz (Dartmouth Intern in Space Policy and Nonproliferation)


Special Thanks to:
Dominic Ofori (Tour Coordinator)
Zelin Liu (Coordinators, Harvard Intern)

2019 Jul, Samsung Solutions Center Visit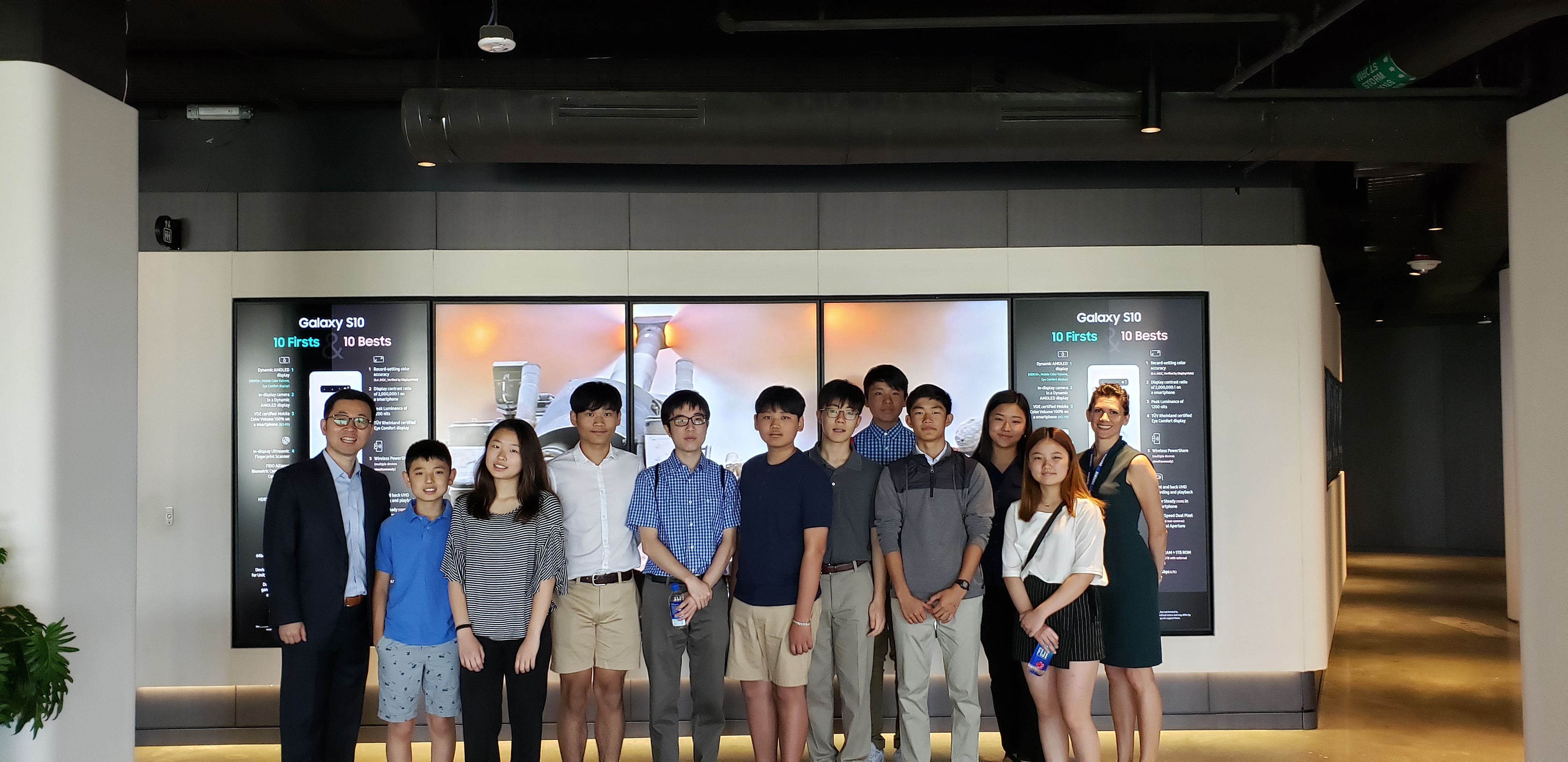 Dr. Marleen Welsh,
Director of Medical and Health at Samsung Electronics
2019 Summer Interns visited the Samsung Solutions Center in Washington D.C. to experience hands-on demos and learn about innovations in 5G, Wearables, VR/AR, and Healthcare technologies.
2019 Mar, Workshop for 2019 TALK Summer Internship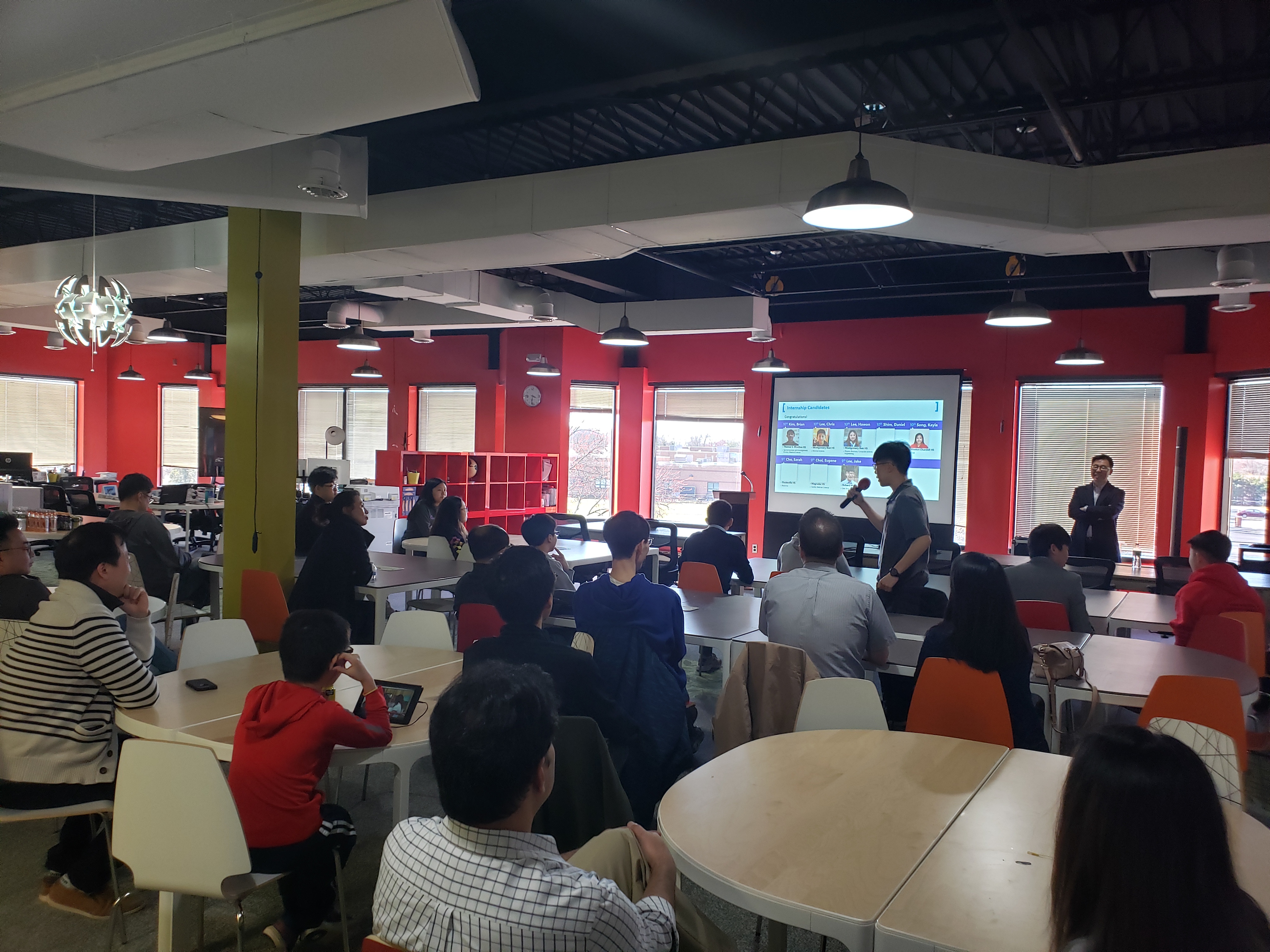 Interns from previous years and middle and high school students who are interested in the 2019 Summer Internship program had an interactive workshop together to build and improve the TALK summer internship program.
2018 Dec, Blockchain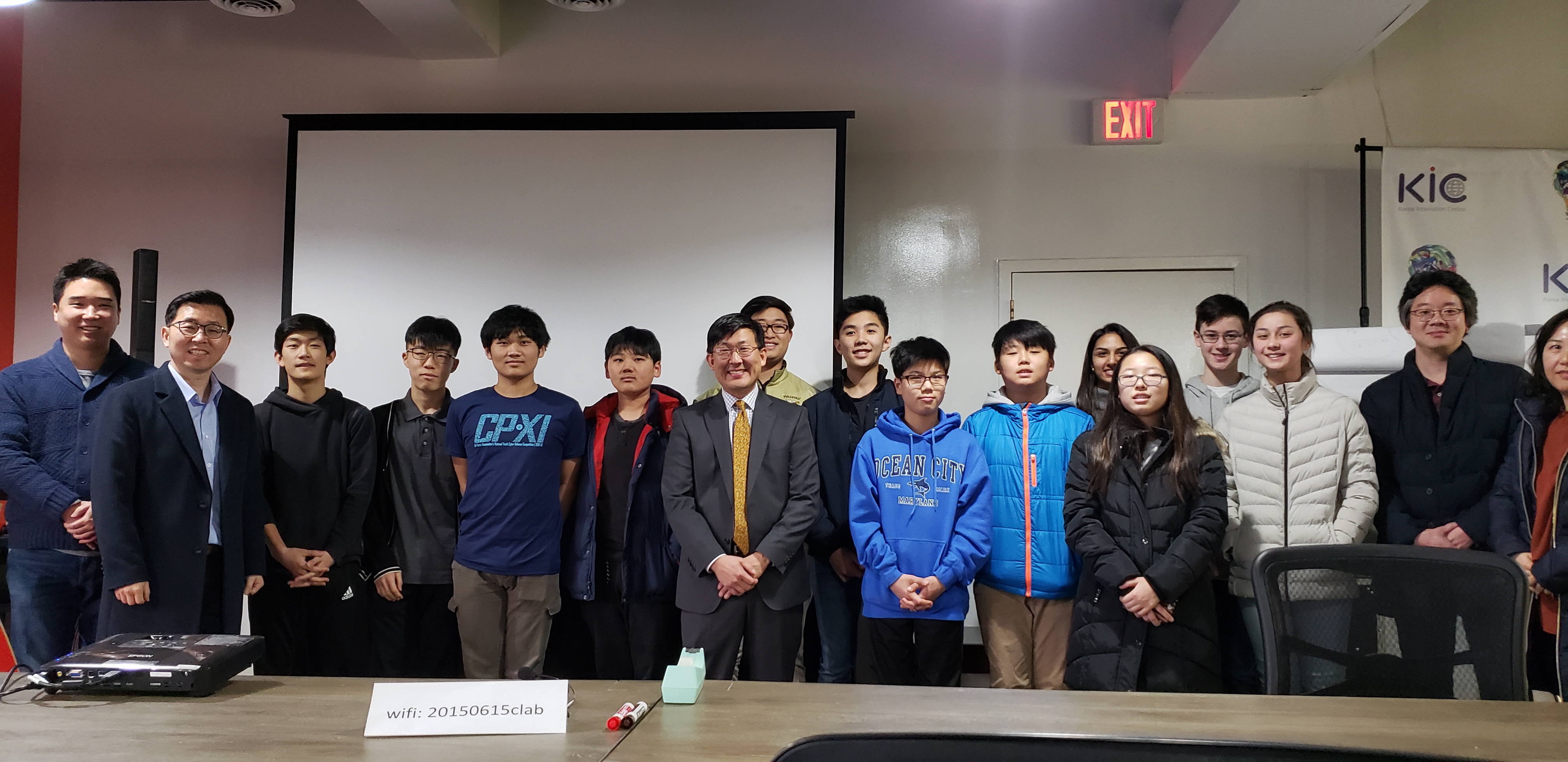 Prof. Jim Kyung-Soo Liew,
Professor in Finance (Johns Hopkins University) & COO at SoKat
"Mathematics, Finance, AI and Blockchain"
from students' reflections
"...I was introduced to a topic I thought to be only understandable to technology's top elites. We were able to get a first hand look at the study of blockchain, AI, and their potential together to completely level our economy and our world, with a future affecting finance, the public sector and all the way to real estate. In what was an incredibly information-heavy session from Professor Jim Kyung-Soo Liew of John Hopkins University, I gained an insight into a topic previously unknown to me besides the statements of its immense power and capabilities."
2018 Aug, TALK 2018 Intern Research Project presentation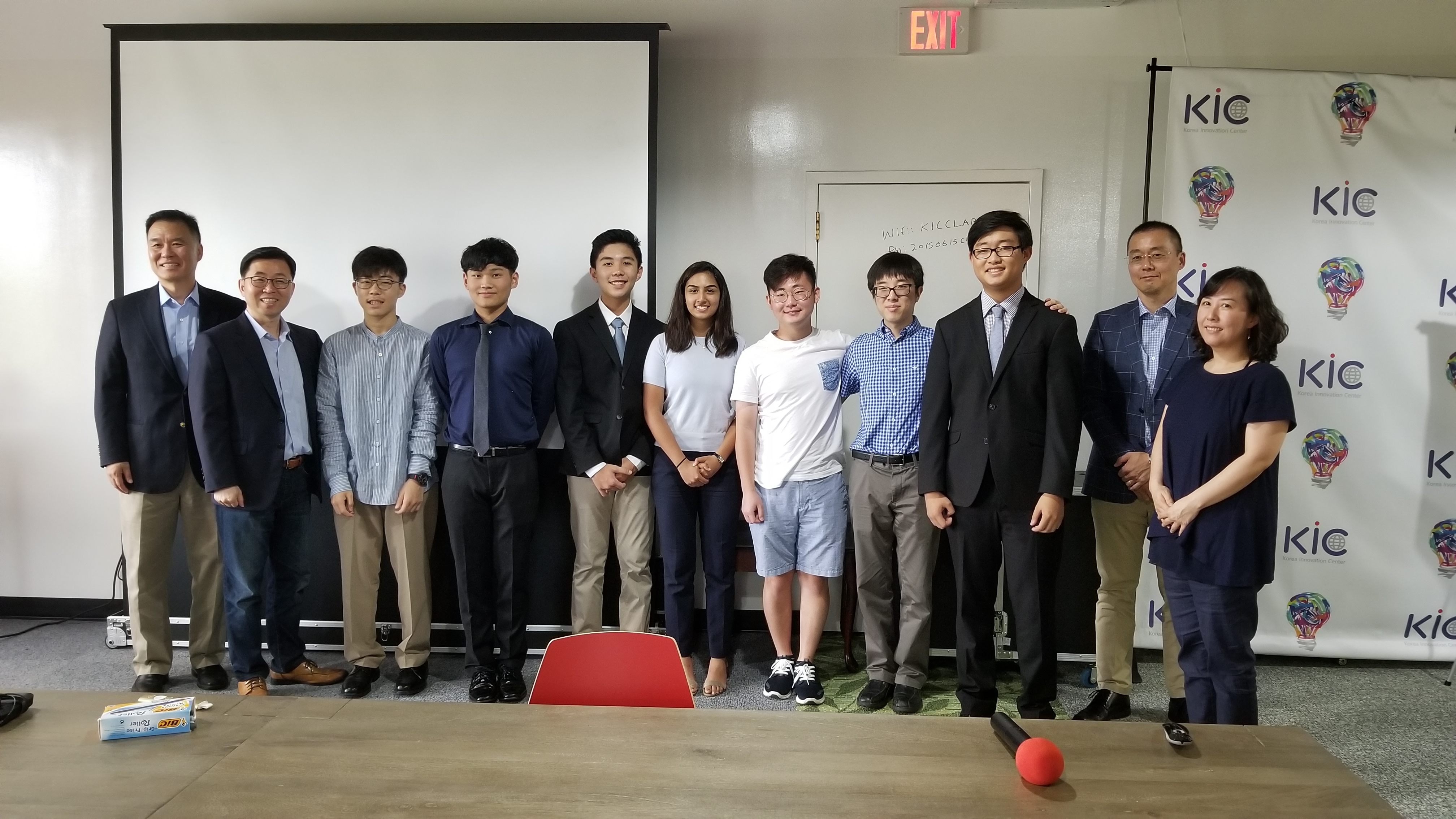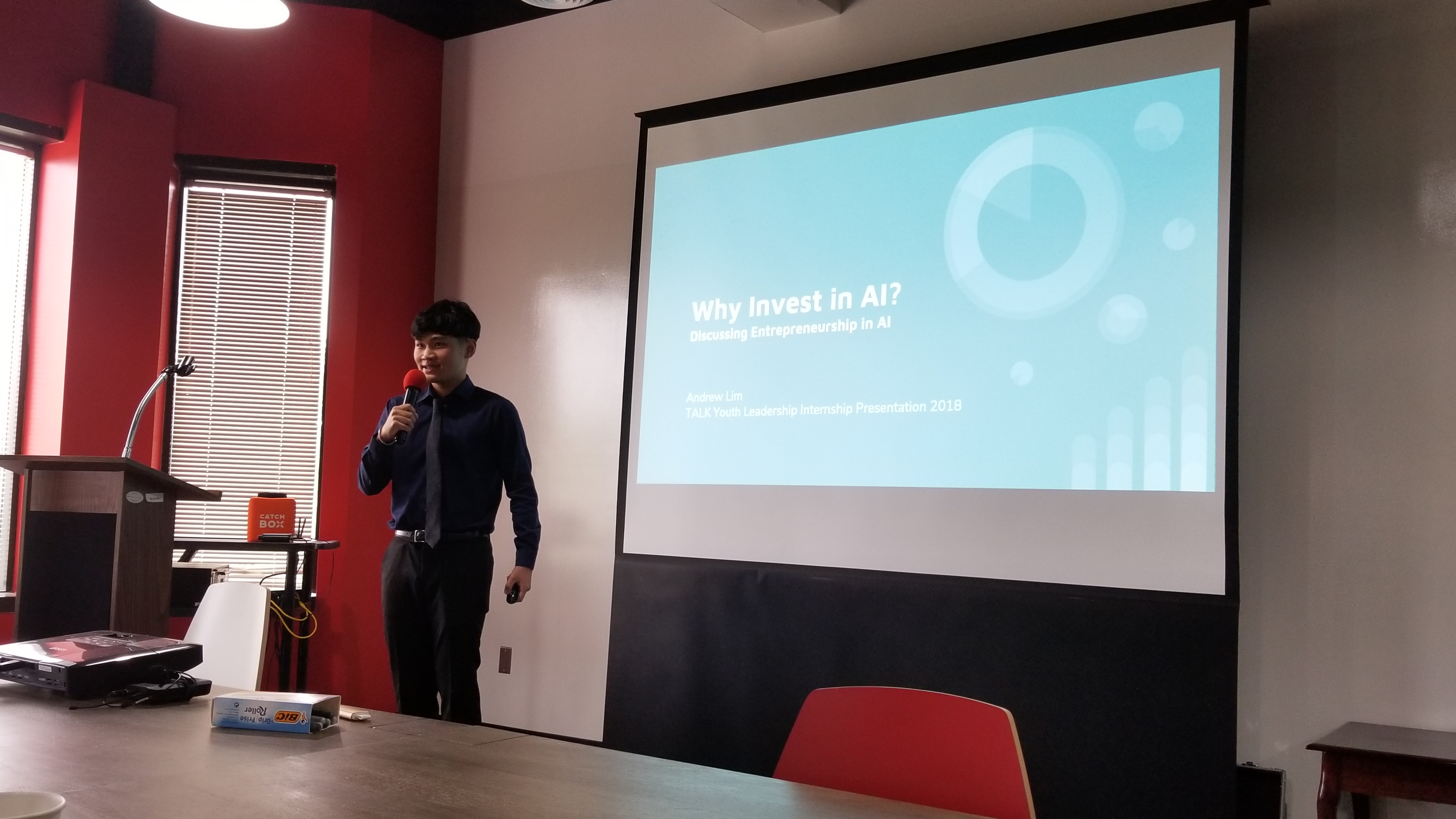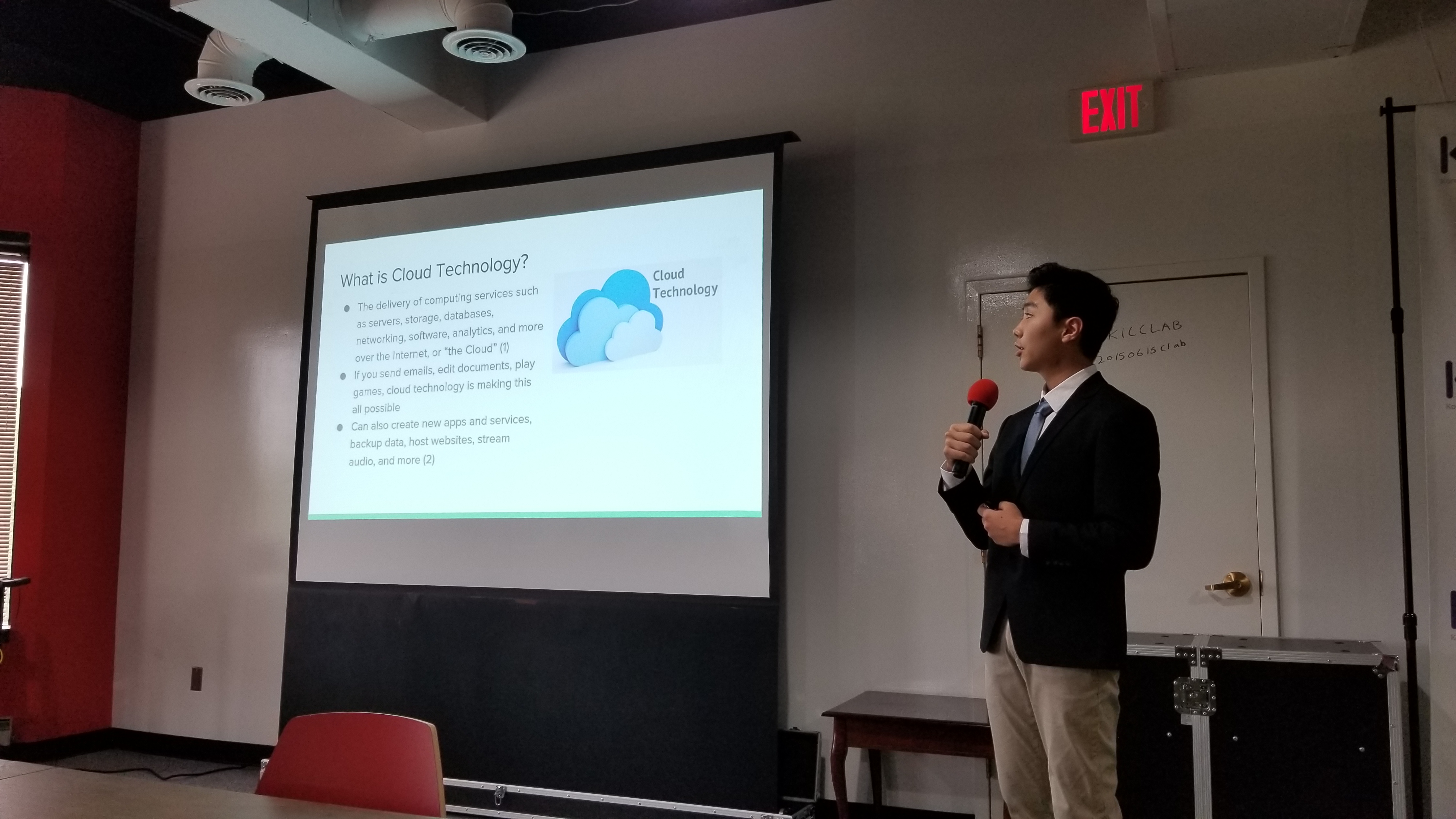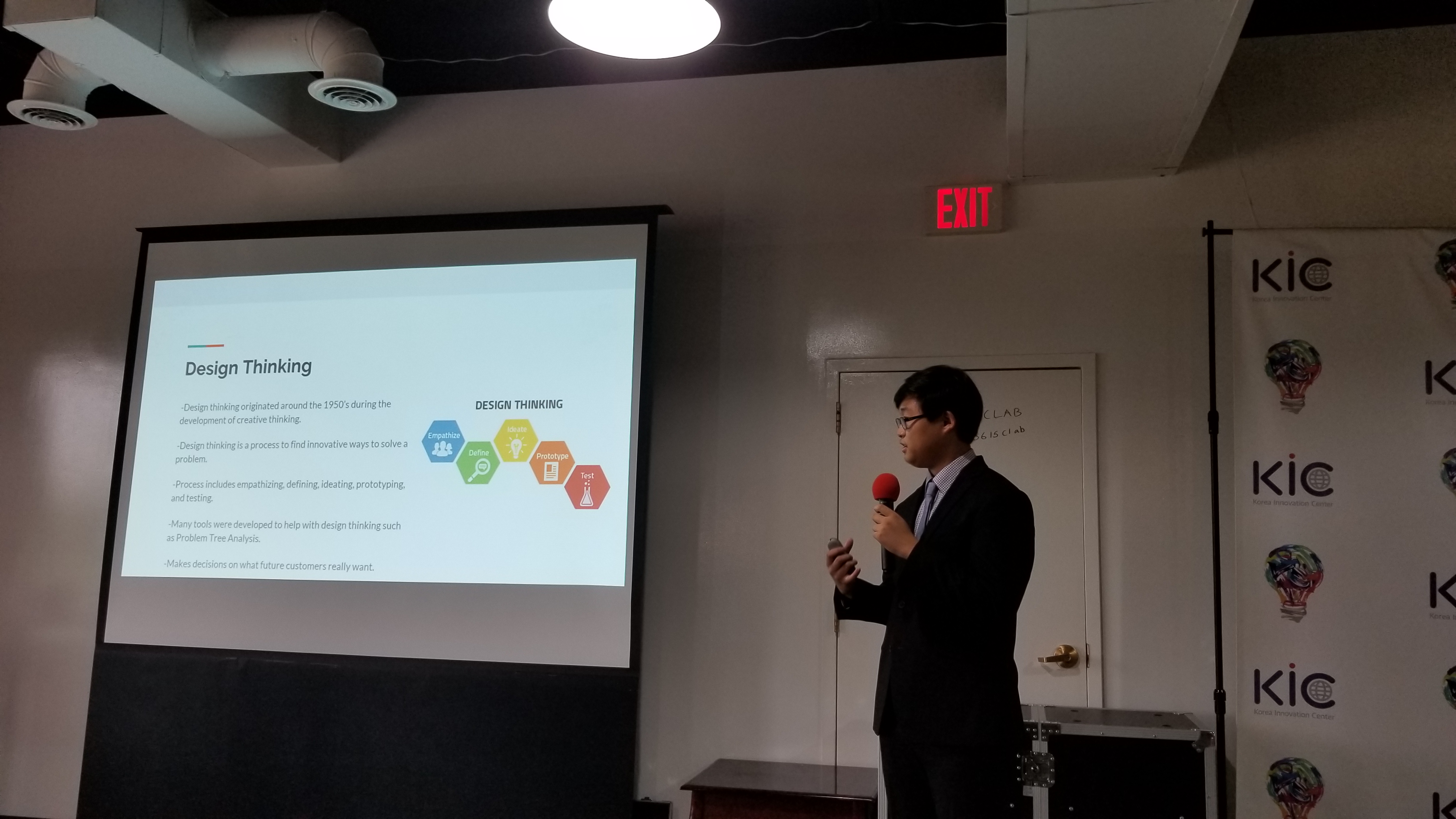 [Entrepreneurship in Artificial intelligence]
[Cloud Technology on the Healthcare System]
[Design Thinking (From Idea to Products)]
TALK 2018 Summer Interns presented their research project to special guests.
US Navy Commander Il Suh
WidePoint CEO Jin Kang


2018 Aug, Technology Ventures Visit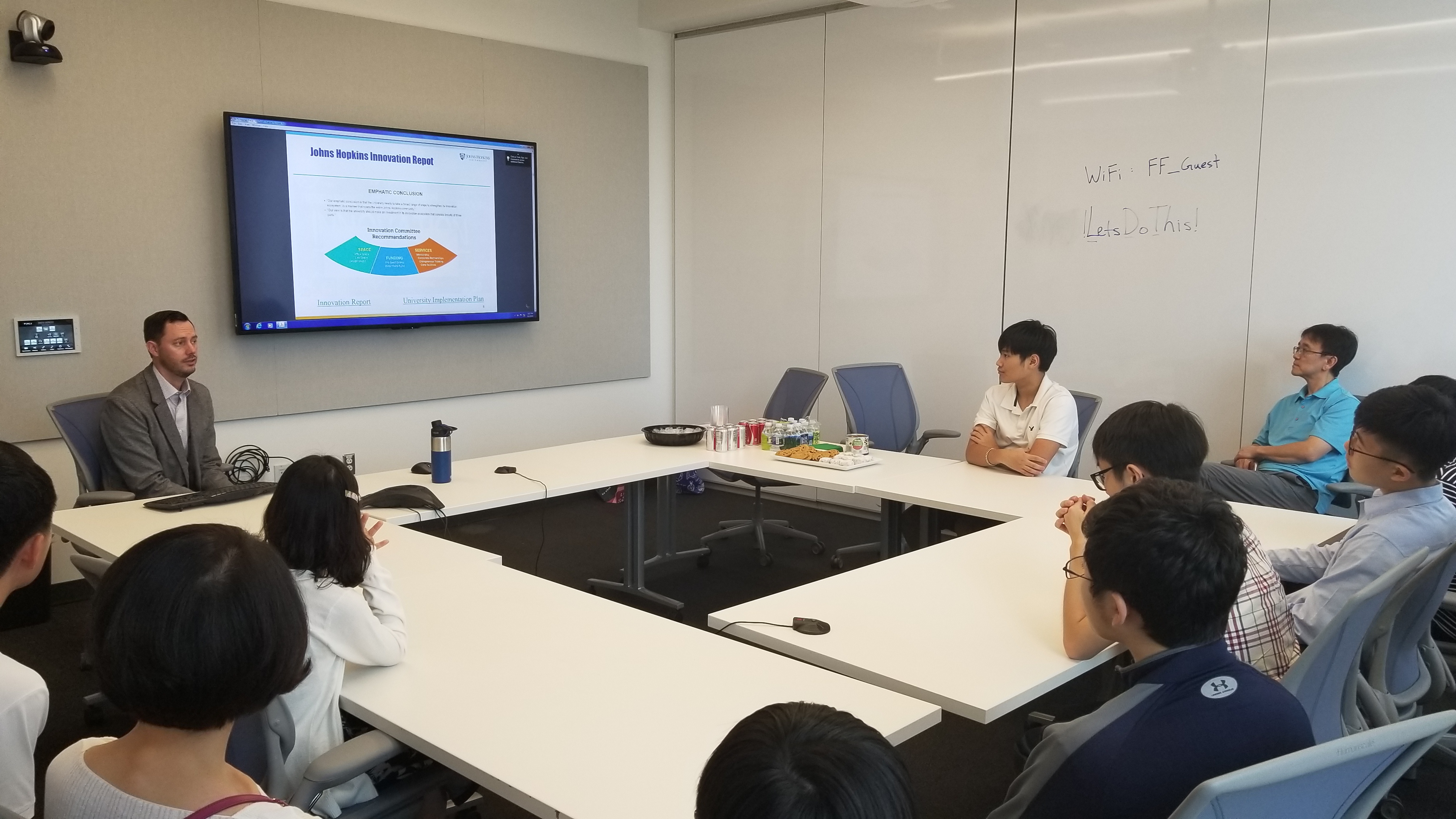 Johns Hopkins Technology Ventures
2018 July, Data Center Visit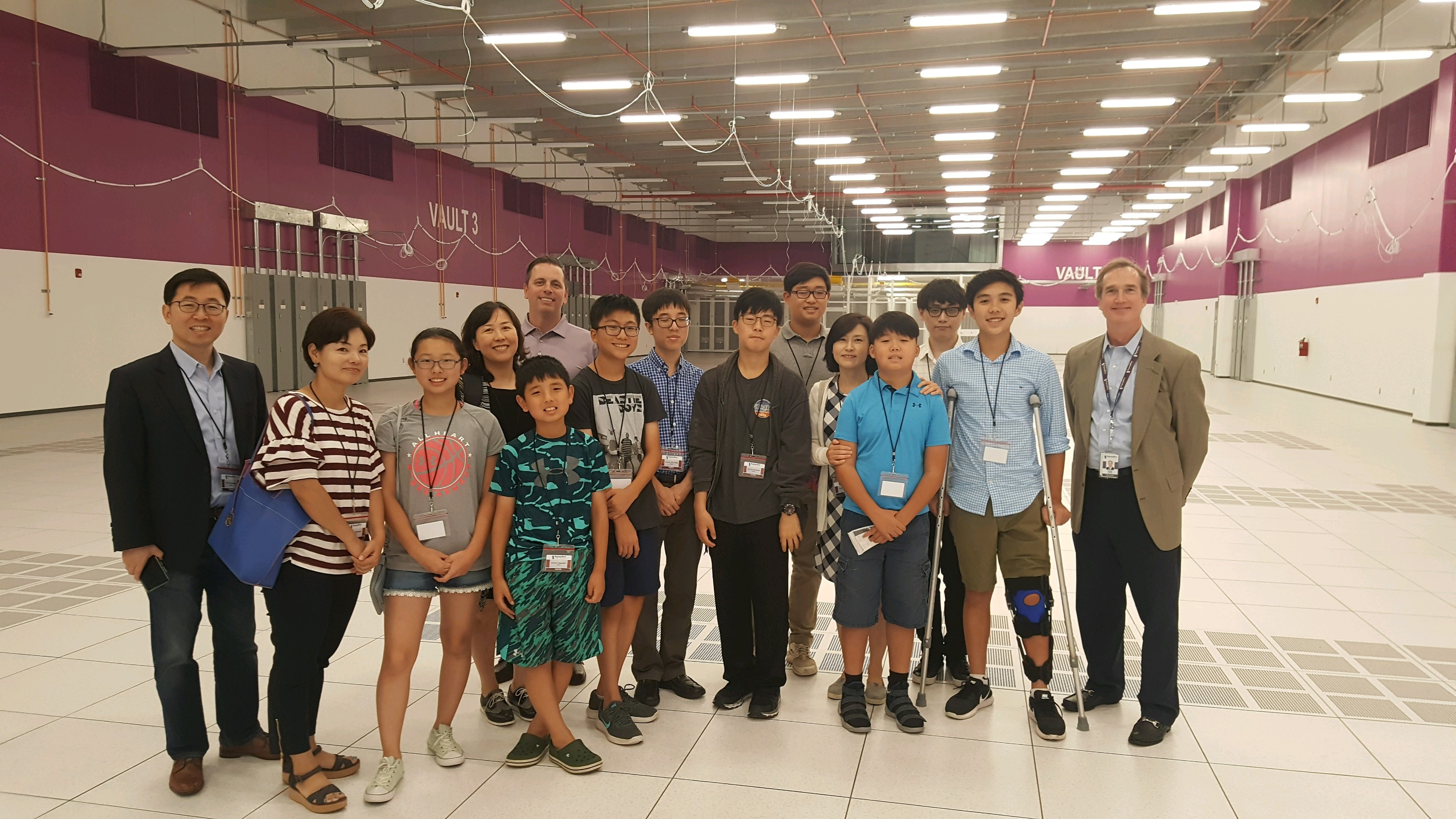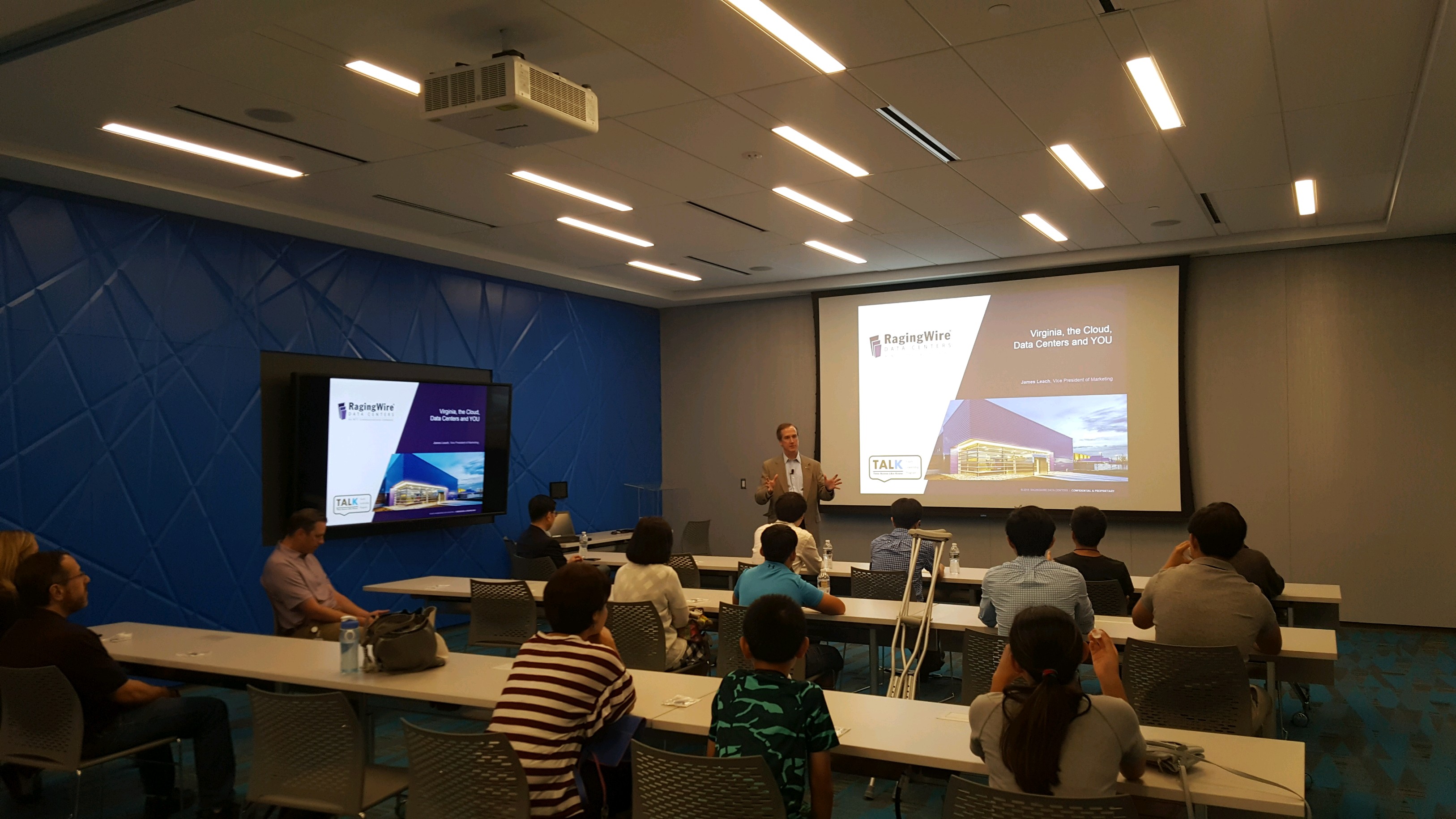 RagingWire Data Centers VA3
Virginia, Cloud, Data Center, and You!
2018 April, Workshop for 2018 TALK Summer Internship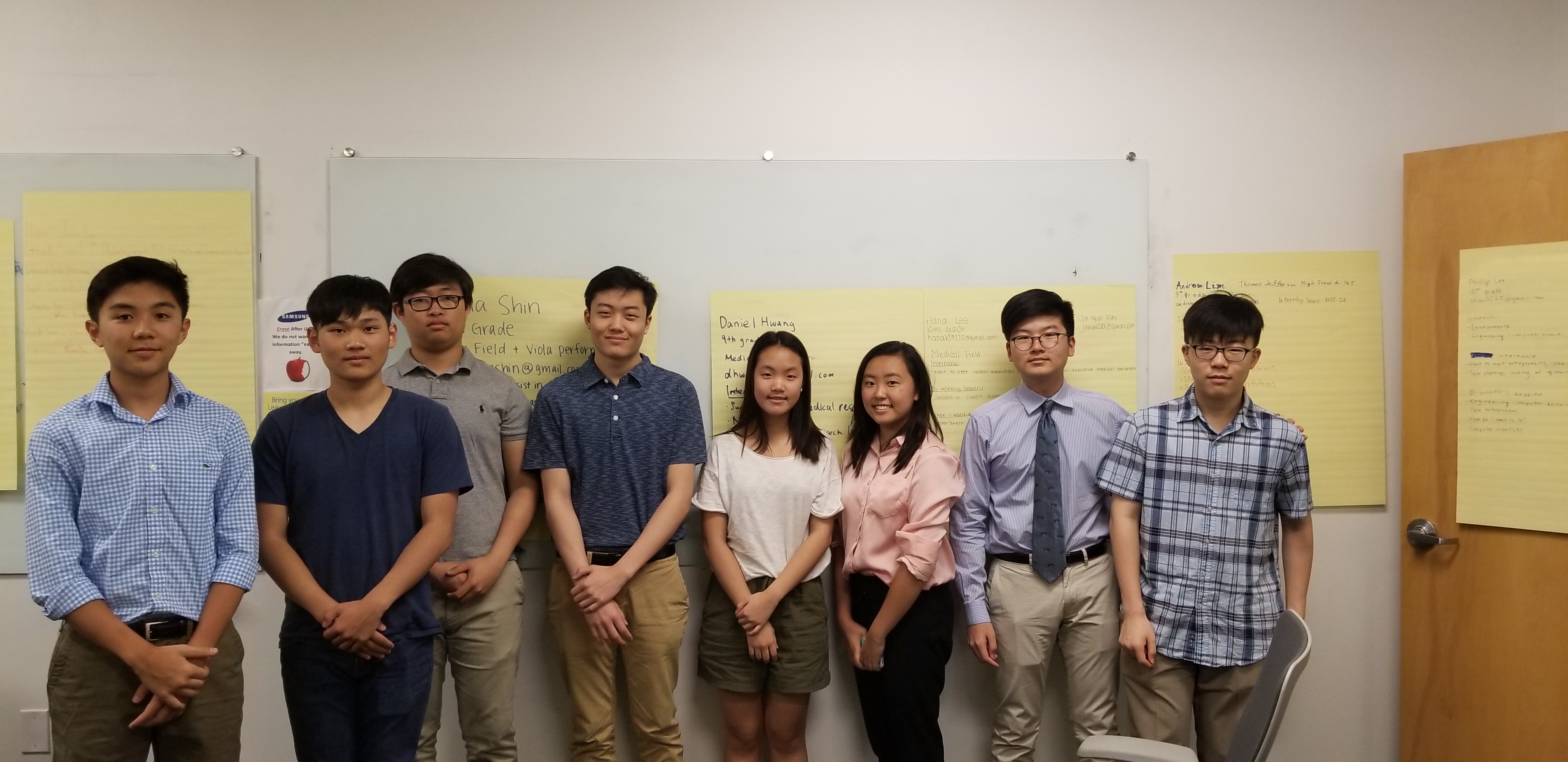 Interns from previous years and middle and high school students who are interested in the 2018 Summer Internship program had an interactive workshop together to build and improve the TALK summer internship program.
2018 January, TALK Alumnus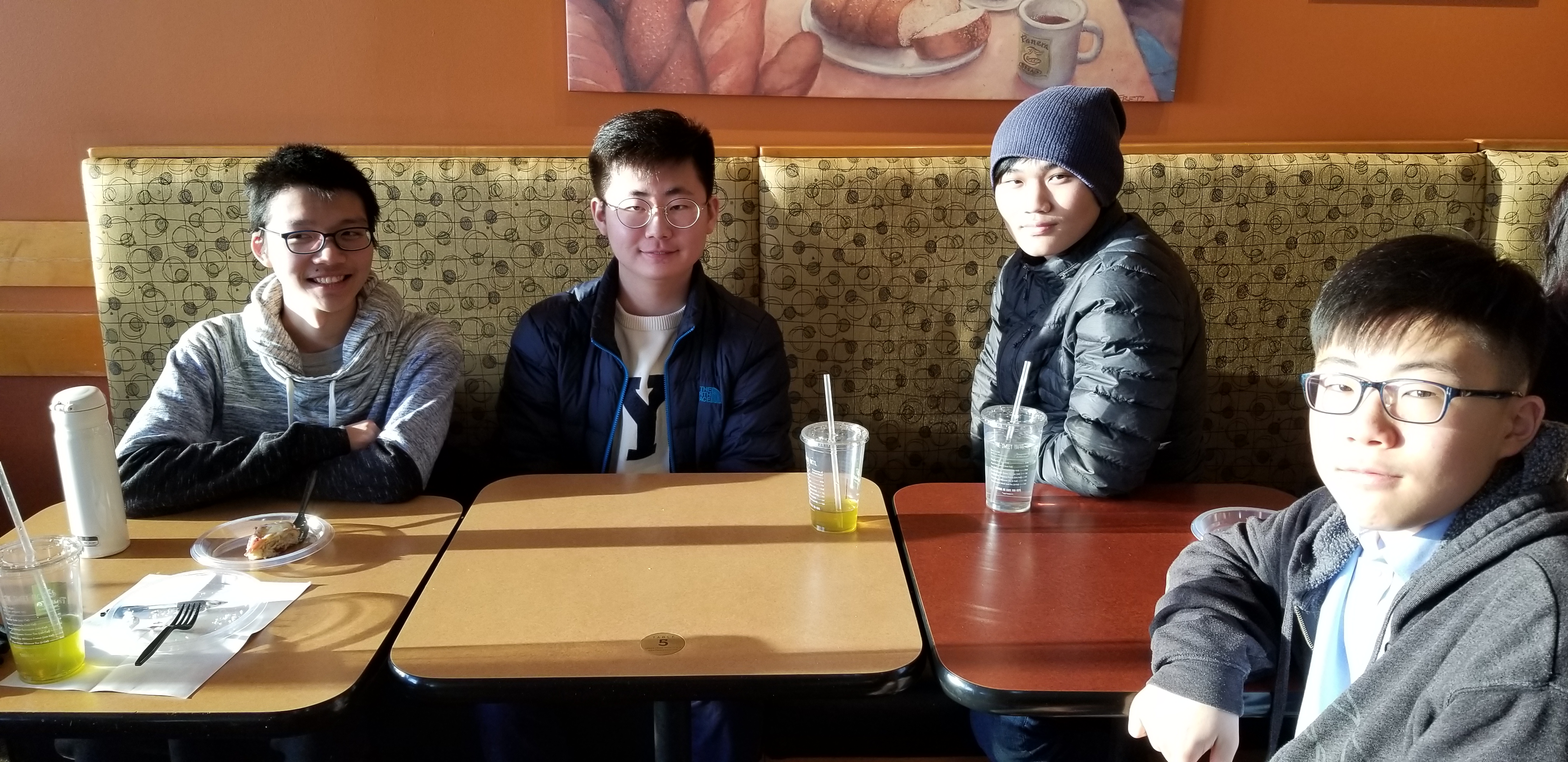 Christopher Sung,
Yale Class of 2021 & TALK Alumnus
The First One Hundred Days at Yale
from students' reflections
"...To find your passion as early as possible is crucial...It was nice being able to chat with Chris, who had participated in TALK before. He was able to teach us about college while also being able to relate to us, making this a very interesting and fun TALK session."
2017 November, US Capitol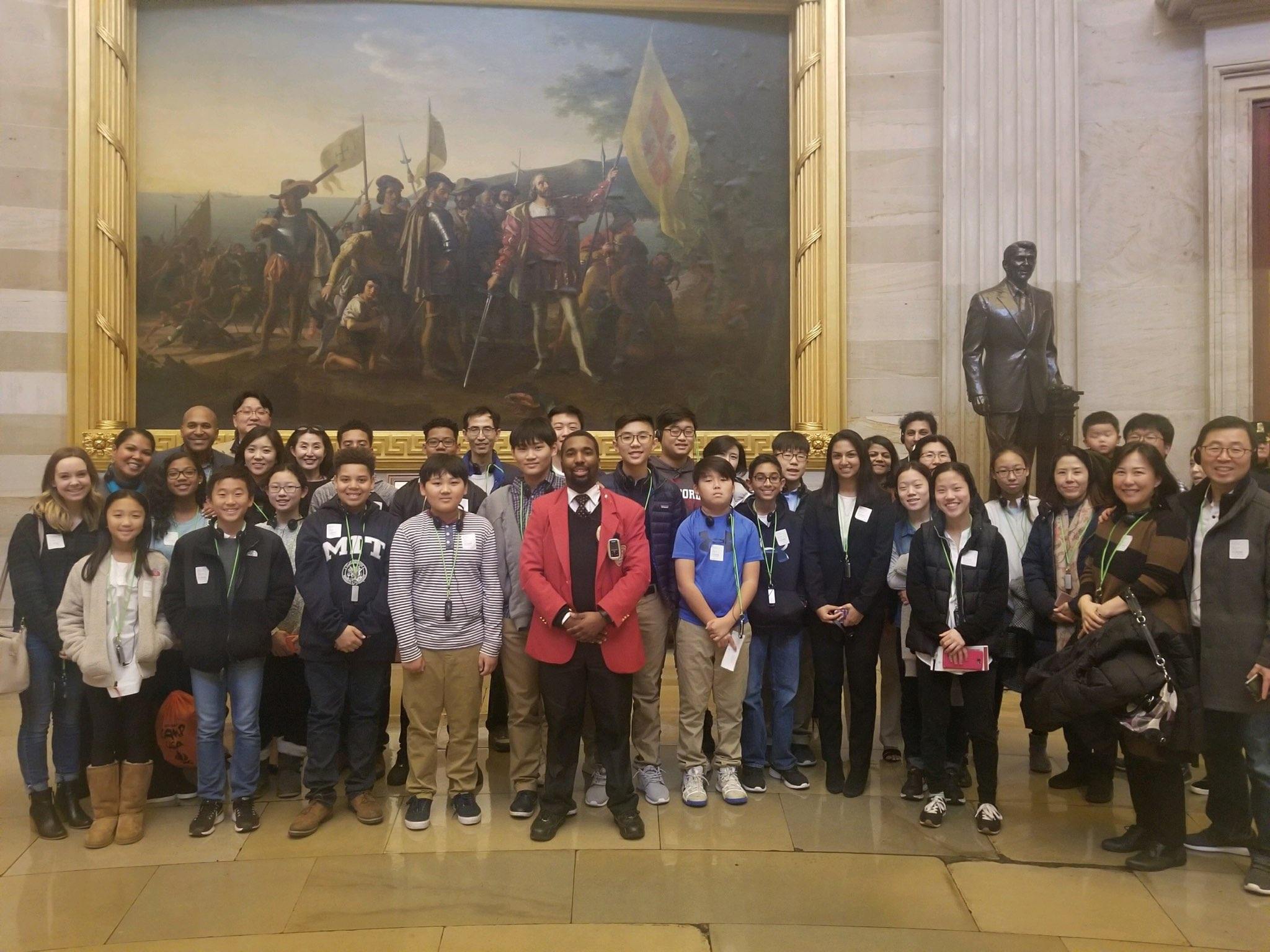 Mr. Stephen McCall,
US Air Force Legislative Fellow
TALK Youth Leadership Session including a tour of the US Capitol Building
from students' reflections
"...I really enjoyed this tour. I also was very thankful for the quick speech our presenter Stephen McCall gave. He talked about how he had gone horrible grades and had gone through many hardships in his childhood and his teenage years. But he had kept on pushing on and had reached success. Thank you for arranging this amazing opportunity and I really look forward to the next TALK Meeting..."
2017 September, Law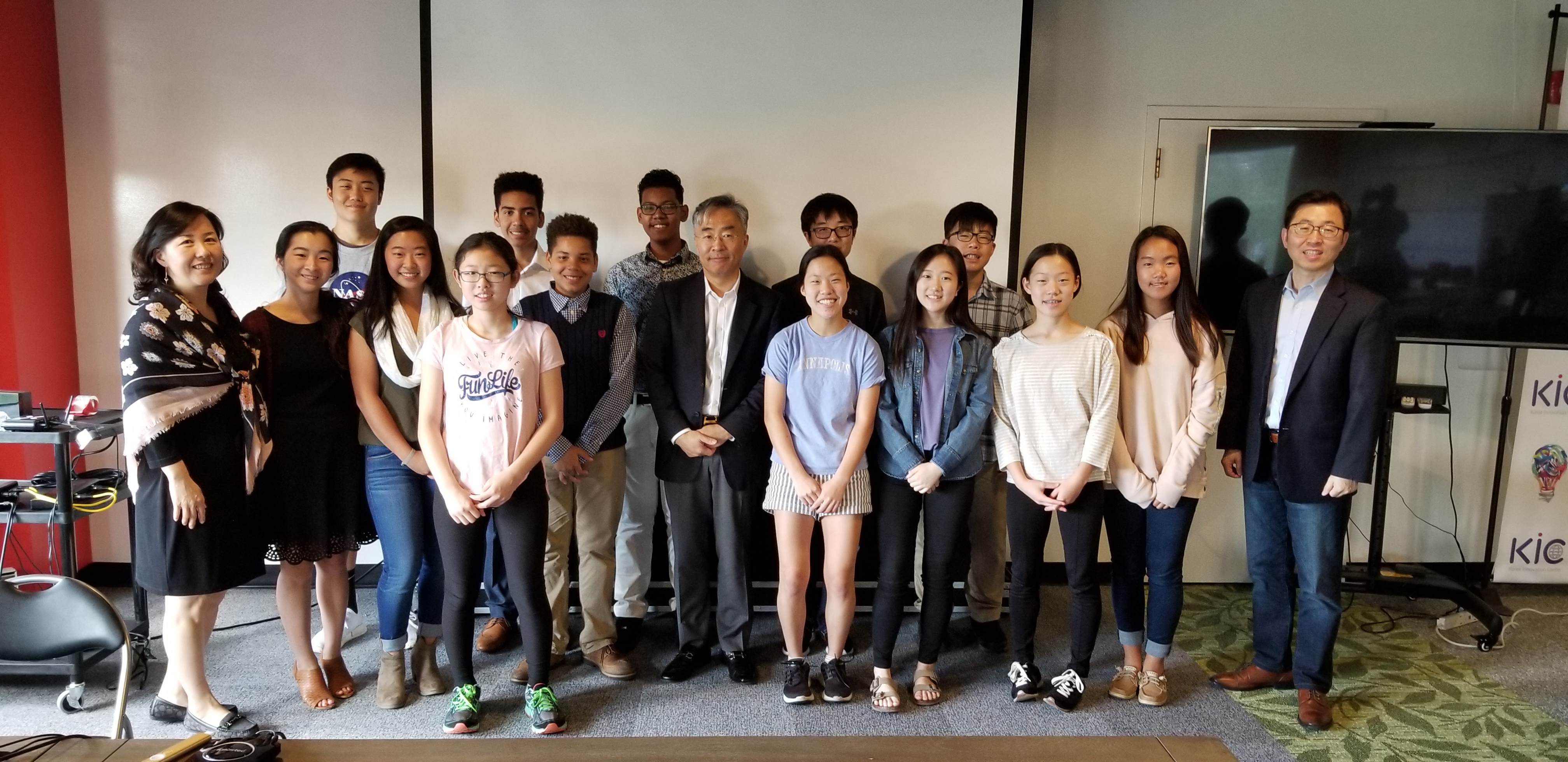 Mr. Hwan Kim,
Partner, Sheppard Mullin Richter & Hampton LLP
from students' reflections
"...Everyday 20 miles..."
"From the story he told about exploring the South Pole, I learned that positive attitude and being prepared helps you overcome almost anything."
2017 June, TALK 2017 Intern Research Project presentation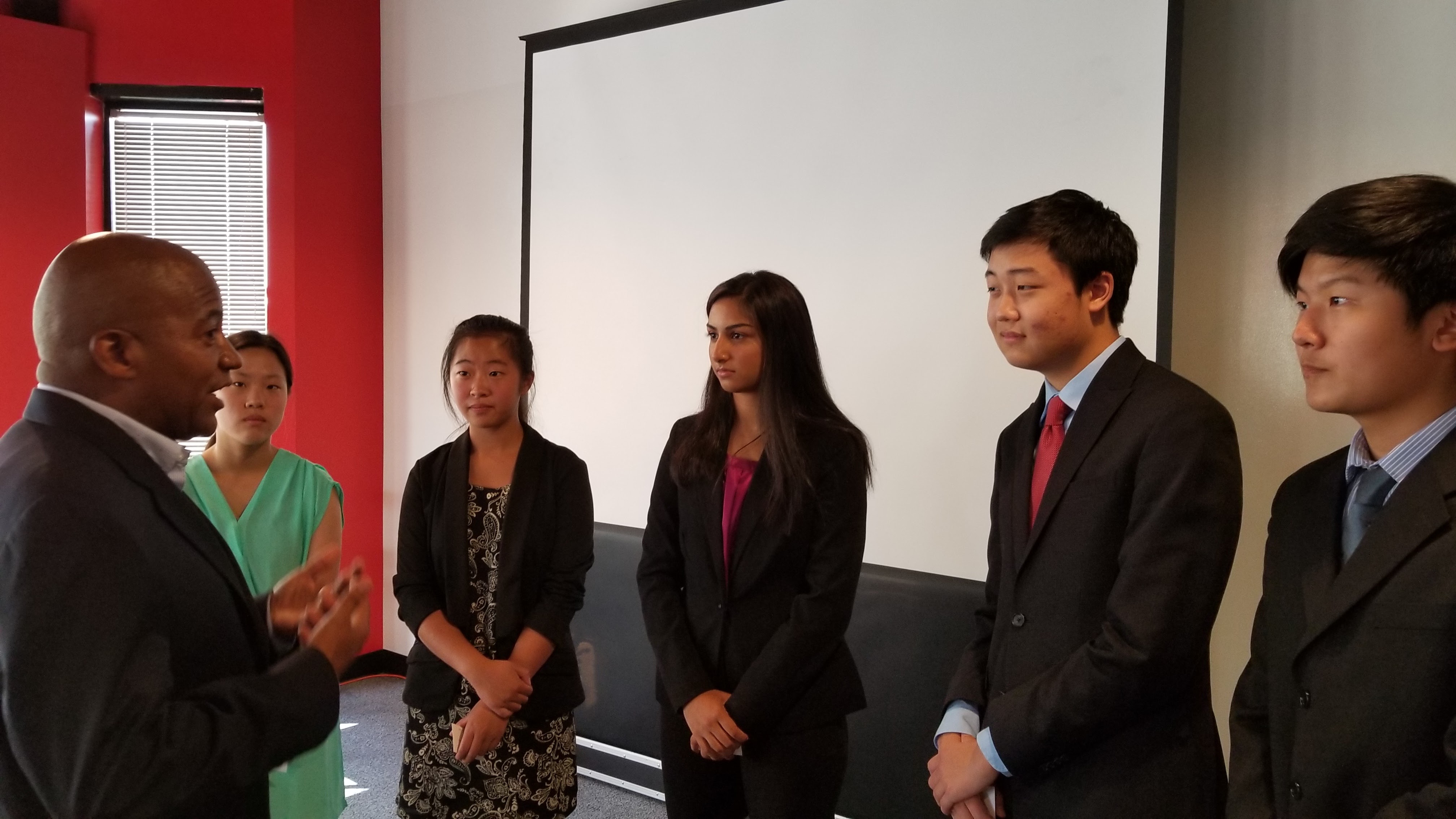 Lieutenant General (ret.) Robert Ferrell,
US Army Chief Information Officer (CIO) (2013- 2017)
[Presentation Materials]
[Photos]
[Local High School Interns Dig Deep Into Virtual Reality]
Written by DANIEL YEH(RICHARD MONTGOMERY HS)
[High School Students Believe Virtual Reality is Real: from Entertainment to Cyber Security, Business, Environment, Military and Health Care]
Written by JANICE LEE (THOMAS WOOTTON HS)
TALK 2017 Summer Interns presented their research project "Virtual Reality" to special guests.
- Lieutenant General (ret.) Robert Ferrell: US Army Chief Information Officer (CIO) (2013- 2017)
- Capt. Seungho Kang: Deputy, Information Management Division, U.S. Army Medical Research Institute of Infectious Diseases (USAMRIID)
- James J Chung, Chief Technologist, Booz Allen Hamilton - Data Solutions &amp Machine Intelligence
2017 May, "White Hat" Hacker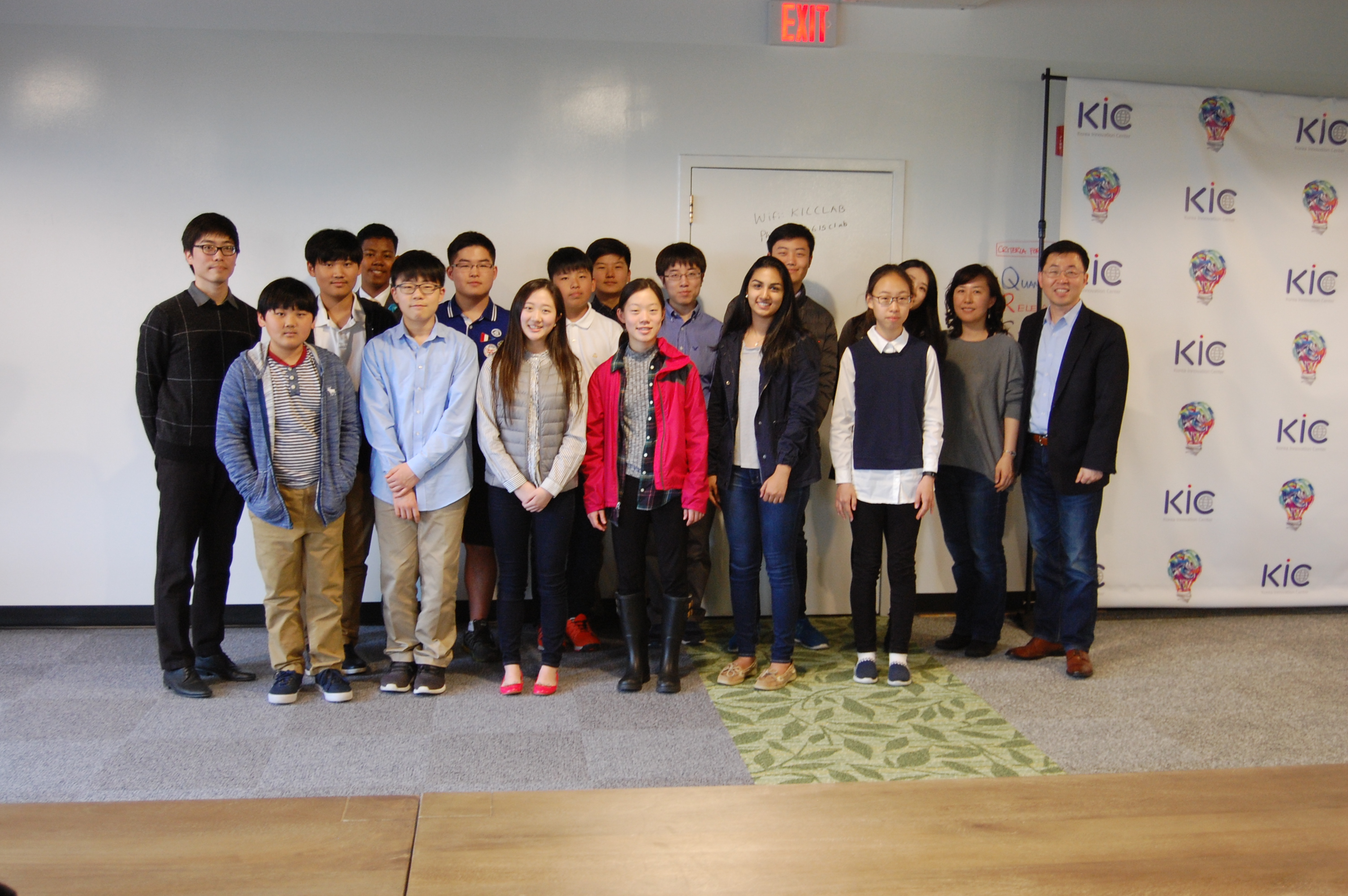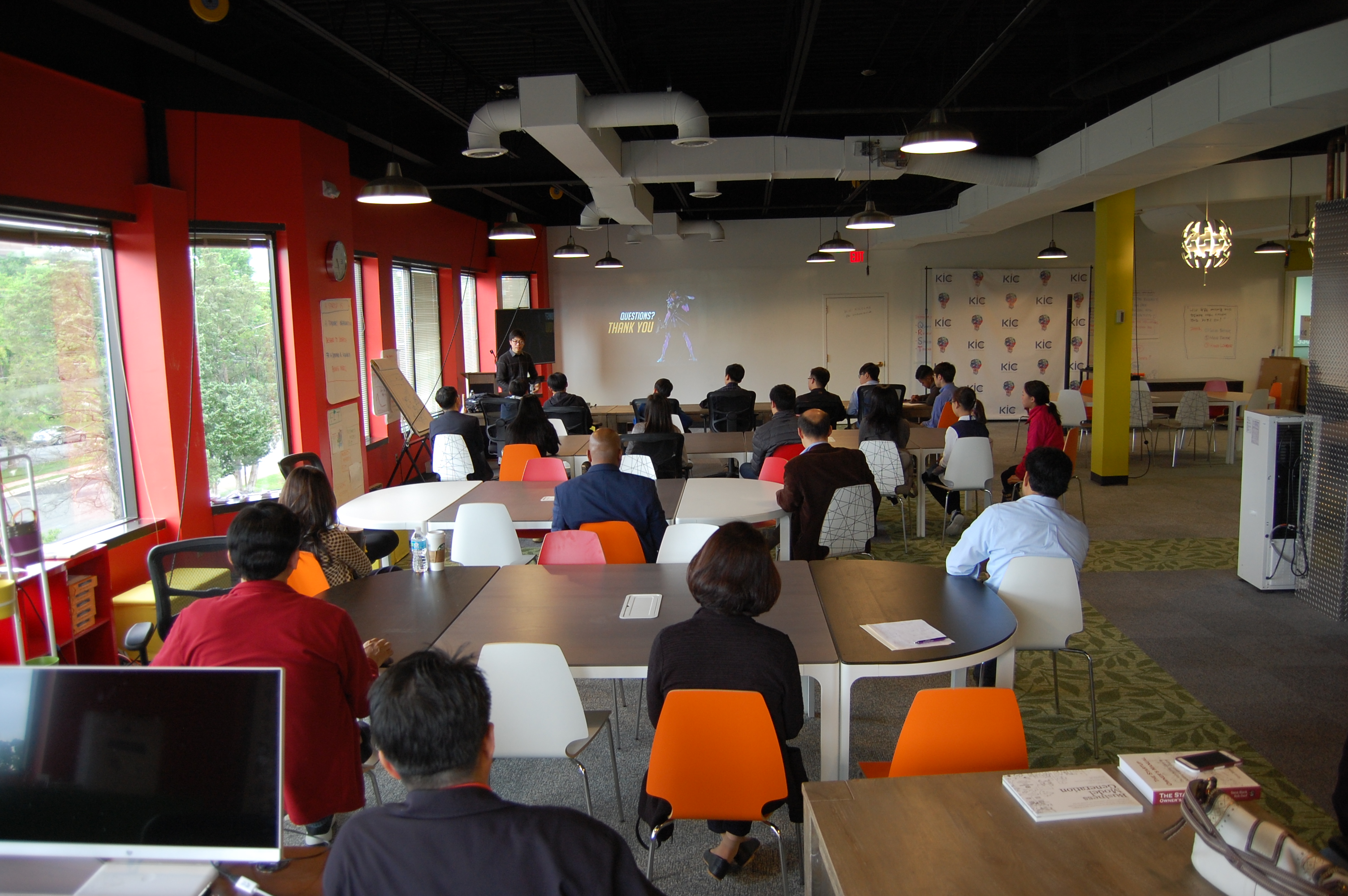 Mr. Brian Pak
Co-Founder of Theori, Inc.
Three time winner of DEFCON's CTF competition, called the "World Series of Hacking."
from a student's reflection
"The opportunity to hear about the experiences of Brian Pak was invaluable. He brought up many topics that were not only interesting, but held relevance to me as an individual. Although his passions and focus is vastly different from my own, insights about his upbringing and more extensive knowledge about his field were still relevant to me.
When speaking on his childhood and start, he shared a lot of insight on how to interact with the world. His curiosity stemmed from a yearning to know exactly how and why things were the way they were. His insatiable desire to understand the complexities in his video-games were what triggered his life-long career. This was an especially profound moment in his talk. I was reminded that the desire to know more should not come from a forced and resentful process. This desire should be cultivated from preexisting passions and interests. As human beings, we all have certain things that excite us and we should try and use this to go deeper into our respective fields.
This, however, does not mean to grow comfortable in what we are familiar with. Another very important part in the talk was his step outside of his comfort zone. His education at Carnegie Melon University was a moment in his life where he was forced to deal with hardships he had never felt before. As a student, it was very easy to empathize with the feelings of hopelessness and struggle that he had felt in his freshmen year. However, this yielded to something essential to everyone's life. In this new environment, he learned how to find the joy of learning. Sometimes, I forget the value in something as simple as finding enjoyment in learning.
In terms of his actual job, it was fascinating for me to take a glimpse into a field I had previously known very little about. His start as a hardware and then software designer was very interesting. I learned one of the important uses of computer programming and hacking. With this, I also learned about the industry and the type of climate he worked in. His stories of failure and success had lots of personal and intellectual value.
As someone who is not very heavily invested into the technological aspect of the world, his talk opened my eyes to the practicality of computer programming and how it is so deeply rooted in other fields and our day to day lifestyles."
2017 March, Workshop for 2017 TALK Summer Internship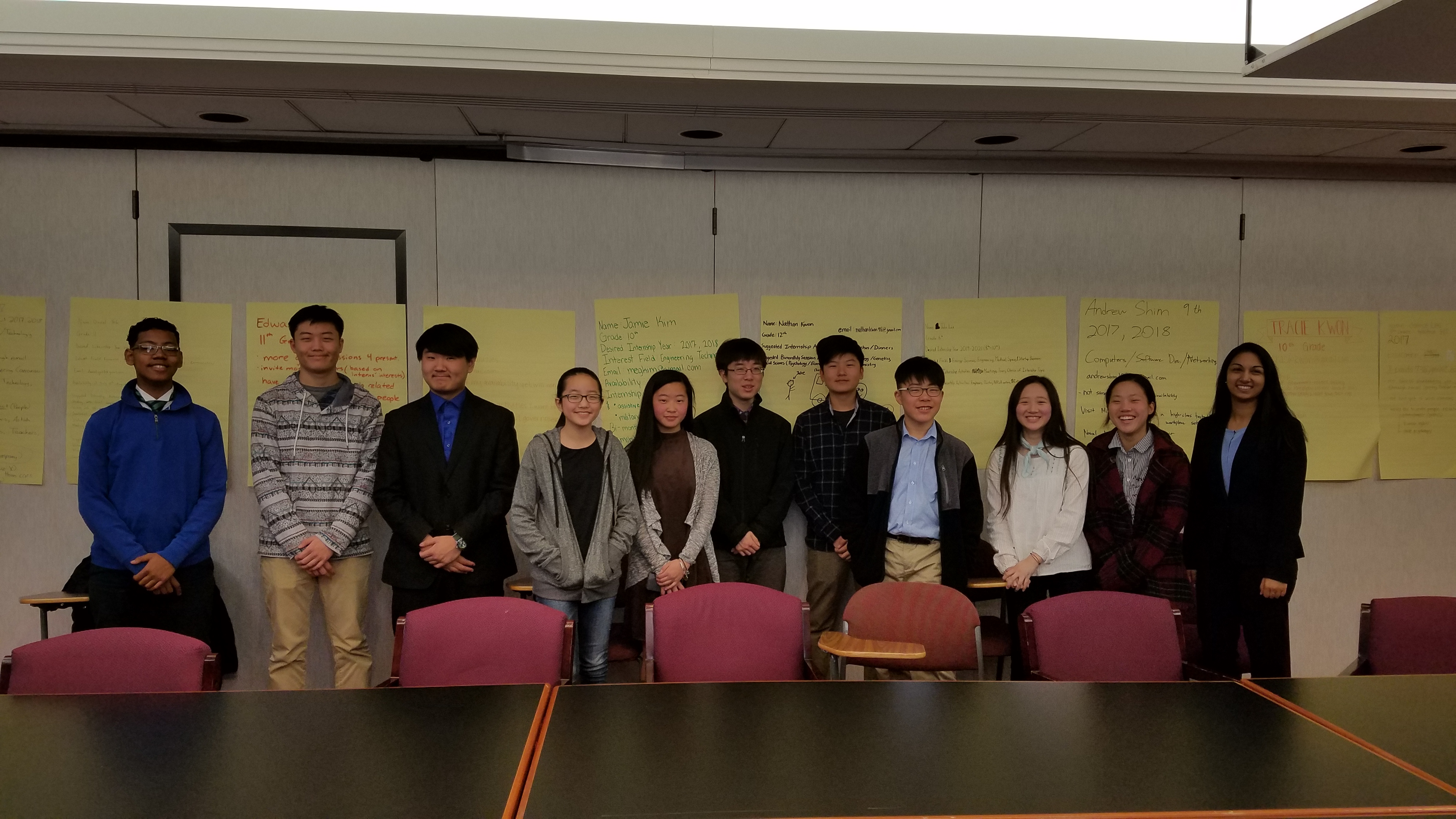 Interns from previous years and middle and high school students who are interested in the 2017 Summer Internship program had an interactive workshop together to build and improve the TALK summer internship program.
2016 November, Robotics Engineering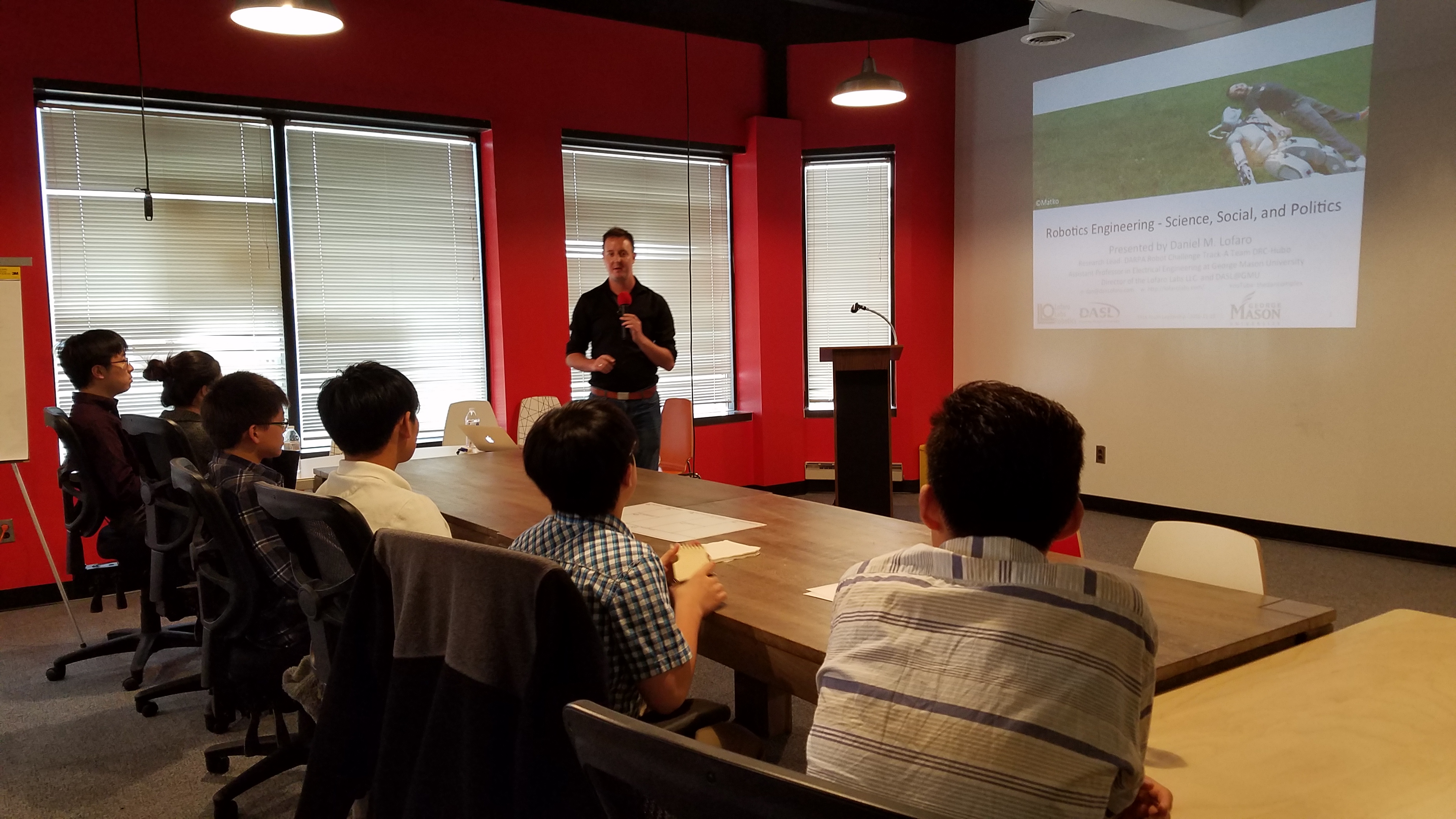 Dr. Daniel Lofaro
Professor, George Mason University
from students' reflections
"His enthusiasm for robotics was inspiring, and I appreciated his examples of how robotics can connect with some of his other interests, like using 3D printers to build trumpets, a robot that can play the piano, and another robot that can pitch a baseball at a Phillies game."
"Mr. Lofaro's passion for robotics could clearly be seen throughout his talk about Hubo, and his ambition and drive could be easily noticed as he talked about his goals and projects, and how he was able to compete in many international competitions due to his willingness to push himself."
2016 September, Policy and Legal Counsel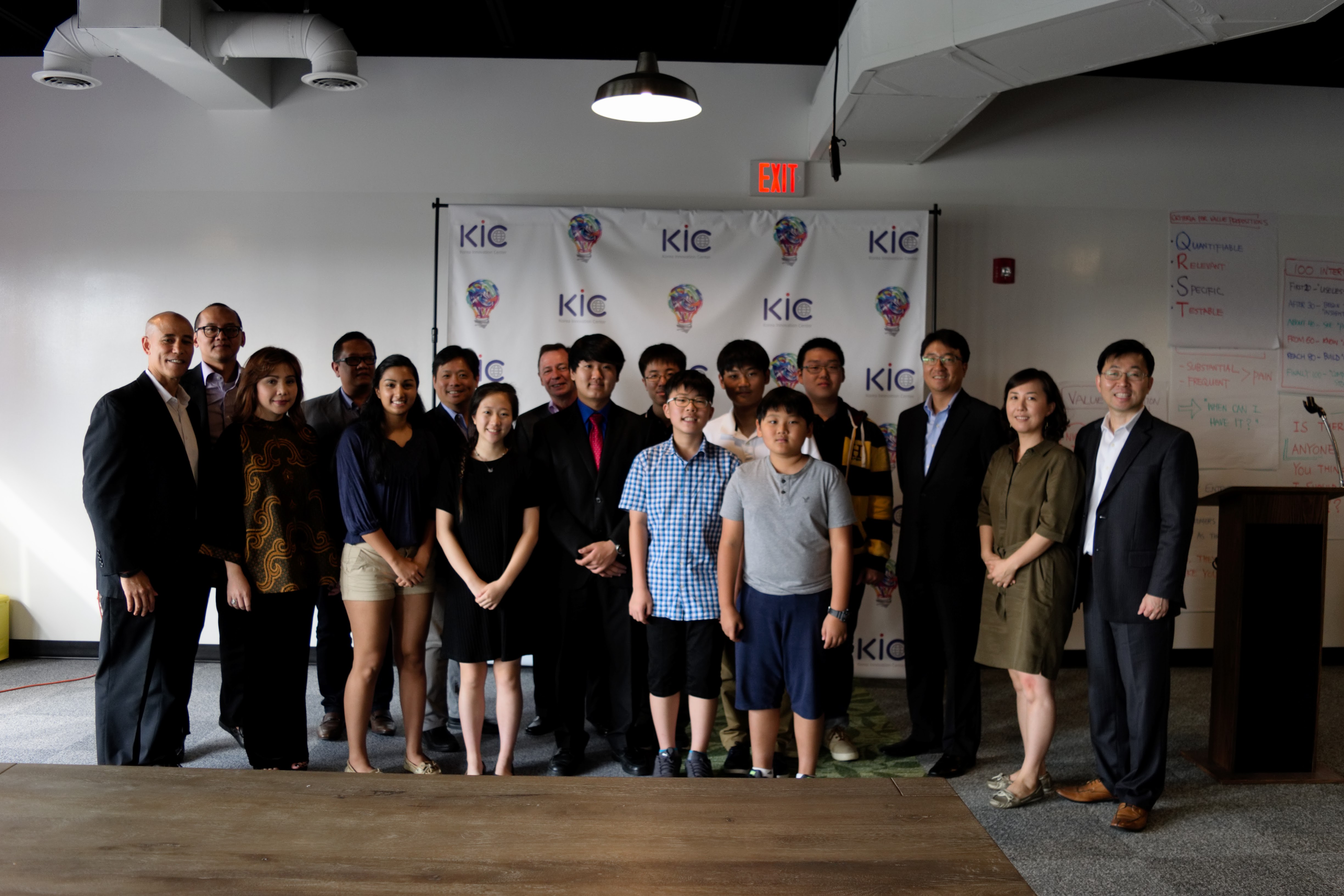 Mr. Harry Wingo
A graduate of the U.S. Naval Academy and Yale Law School, Mr. Harry Wingo is a founder and principal of West River Solutions, a DC-based Technology firm focused law, policy and training. As President and CEO of the DC Chamber of Commerce, he led a team of professionals in the Nation's Capital in providing Washington businesses with passionate advocacy, valuable networking opportunities, and enlightening educational programs. He worked in Google's DC office as a senior policy counsel, as well as for the U.S. Senate and the Federal Communication Commission as a counsel. He also served as a Navy SEAL officer.
The 2016 TALK Youth Scholaship was presented to Eric Chung (Tuscarora HS), Nathan Kwon (Poolesville HS), Tracie Kwon (Richard Montgomery HS), and Edward Lee (Montgomery Blair HS).
2016 July, TALK 2016 Intern Research Project presentation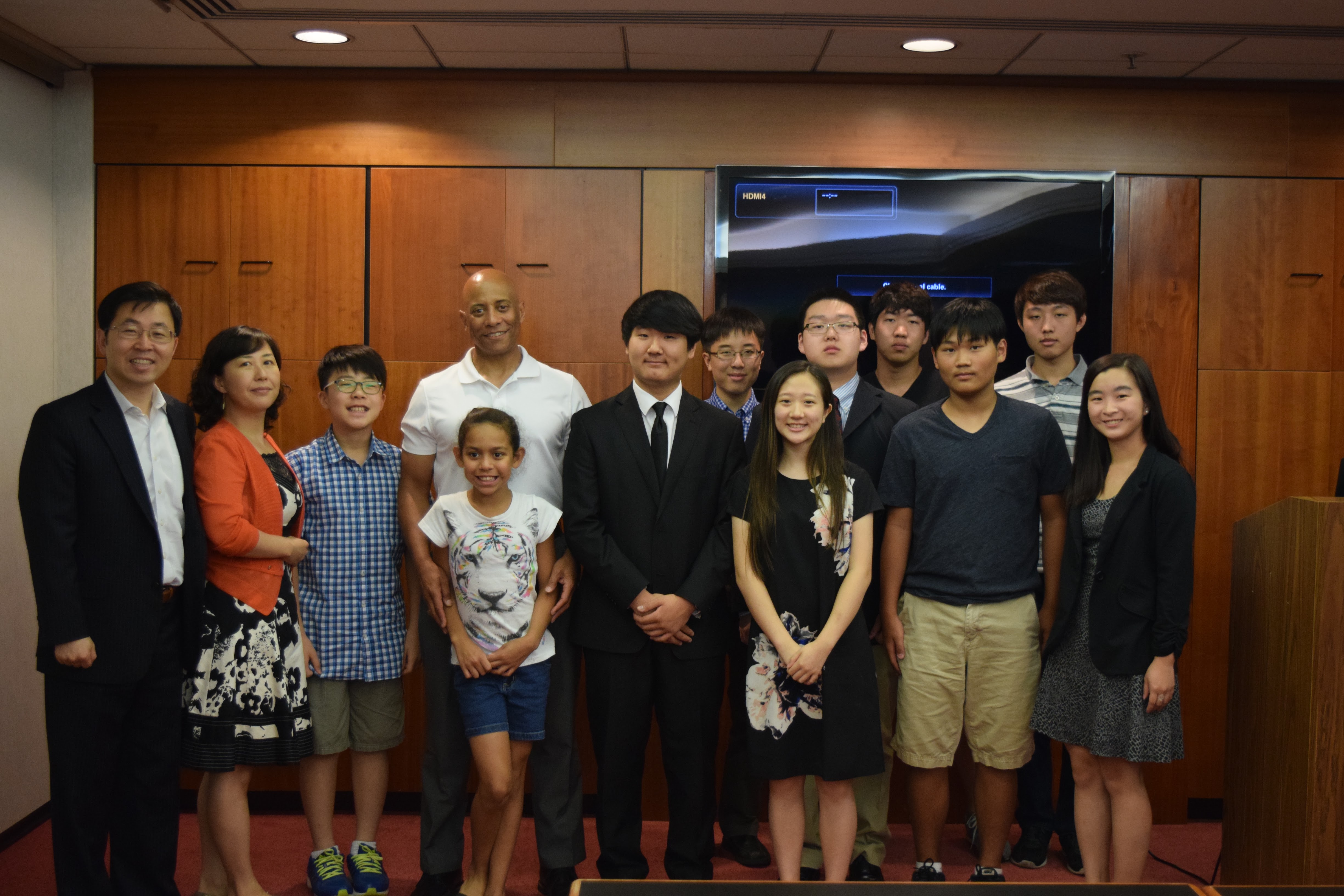 Dr. Reginald Brothers
Under Secretary for Science and Technology,
Department of Homeland Security (DHS)
[Presentation Materials]
TALK 2016 Summer Interns presented their research project "Internet of Things - A connected and secure world" to Dr. Brothers.
2016 May, Comic Books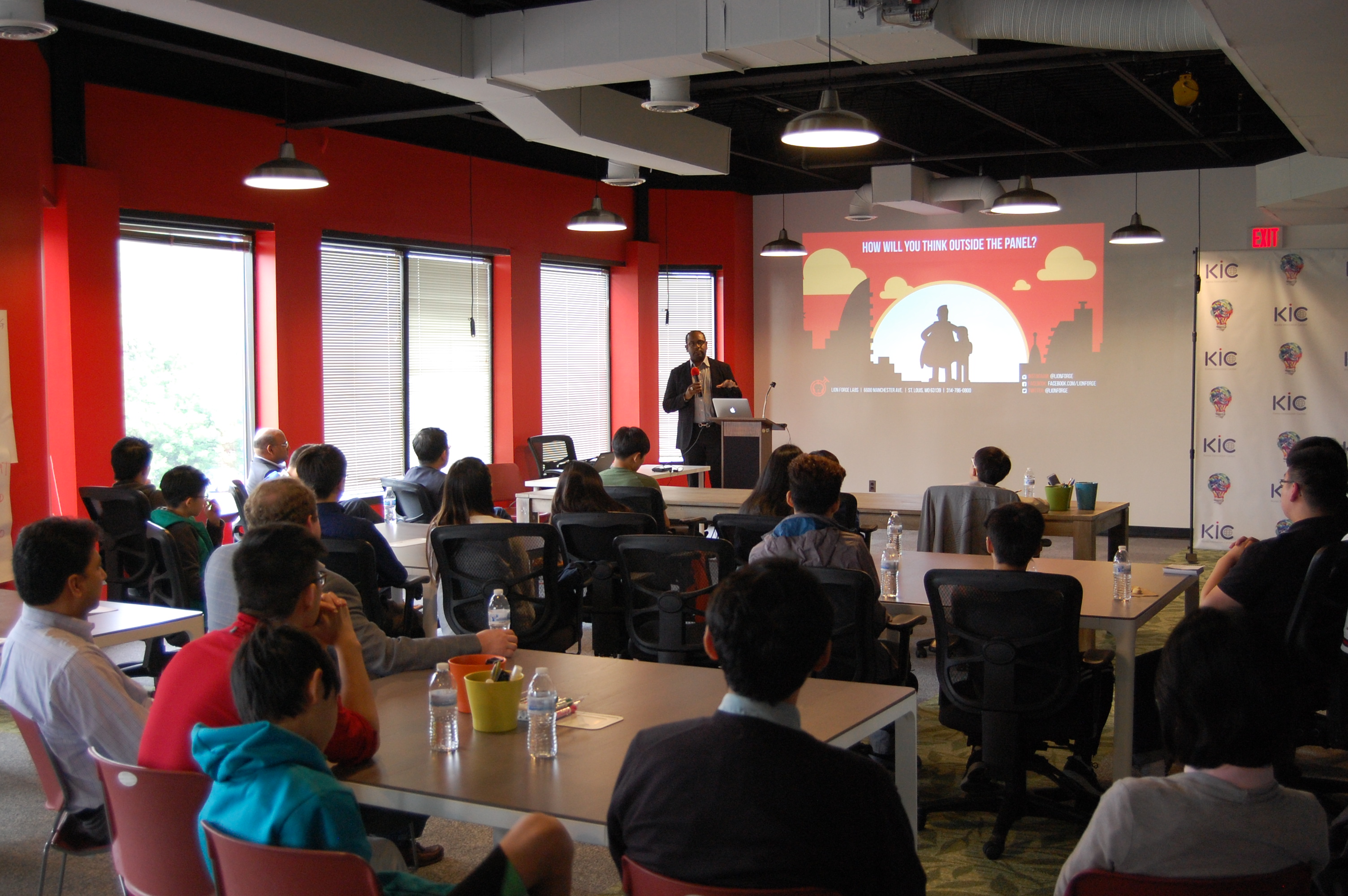 Mr. David Steward II
Founder and CEO, Lion Forge Comics
from students' reflections
"...I learned the value of trying out different things, and obtaining inspiration from previous ideas and designs..."
"...He uses his father's motto that "As long as you do something that you love you'll never work another day." and always tries to enjoy his work...teamwork is vital. Only by working together will success happen..."
"...His story connected with the "Like" section of TALK, as he really chased after what he enjoyed doing..."
2016 March, Program Overview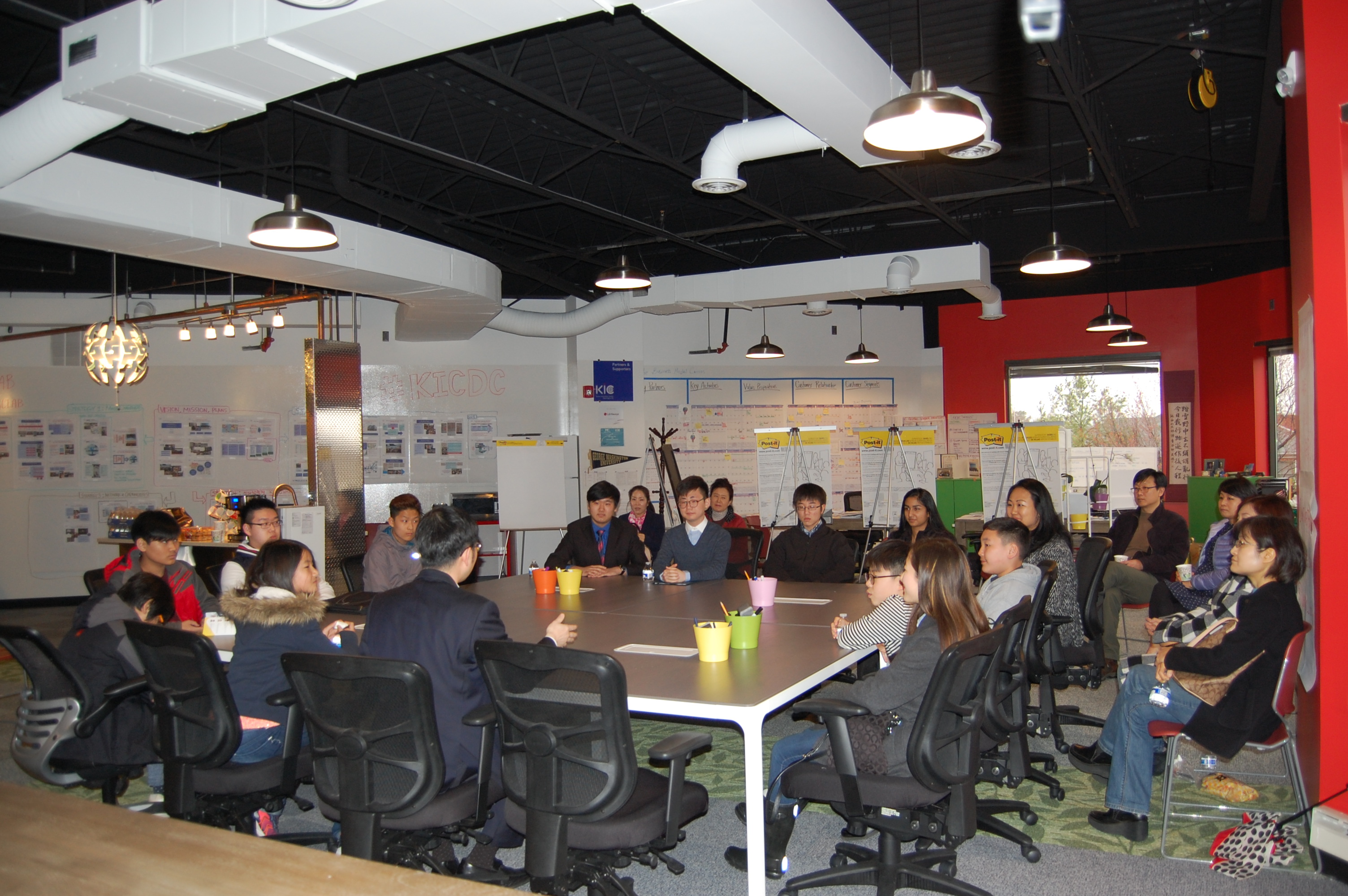 Dr. Mingu Lee
Vice President, Samsung SDS America
TALK hosted summer internship candidate interviews and 2016-2017 program overview. Special thanks to Ms. Diana Hong (Manager at Accenture and Chief Technology Officer at Freeset USA) and Mr. Daniel Aum (Democratic Fellow at Tom Lantos Human Rights Commission, U.S. House of Representatives).
2016 January, Military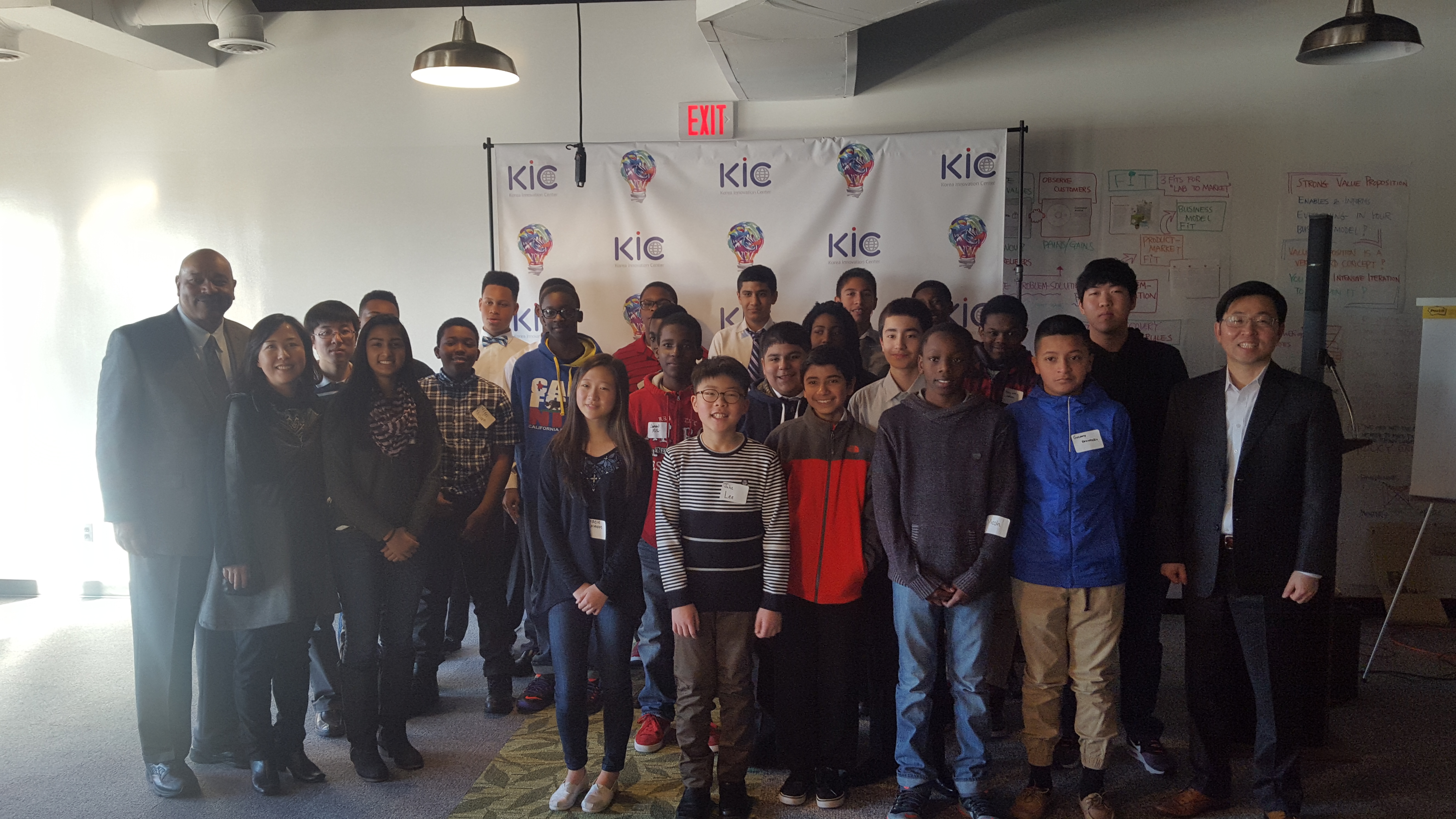 Rear Admiral Tony Watson
U.S. NAVY (Retired)
from students' reflections
"...I learned that curiosity of the world around us is an important aspect of success..."
"...we need people of all backgrounds, all religions, and all jobs for a more balanced world..."
"...Security is essential to the wellness of a nation, and I learned that the U.S. Navy contributes to that security....through cooperation and hard work, our generation can achieve the greatest accomplishments and discoveries ever..."
2015 November, Telecommunication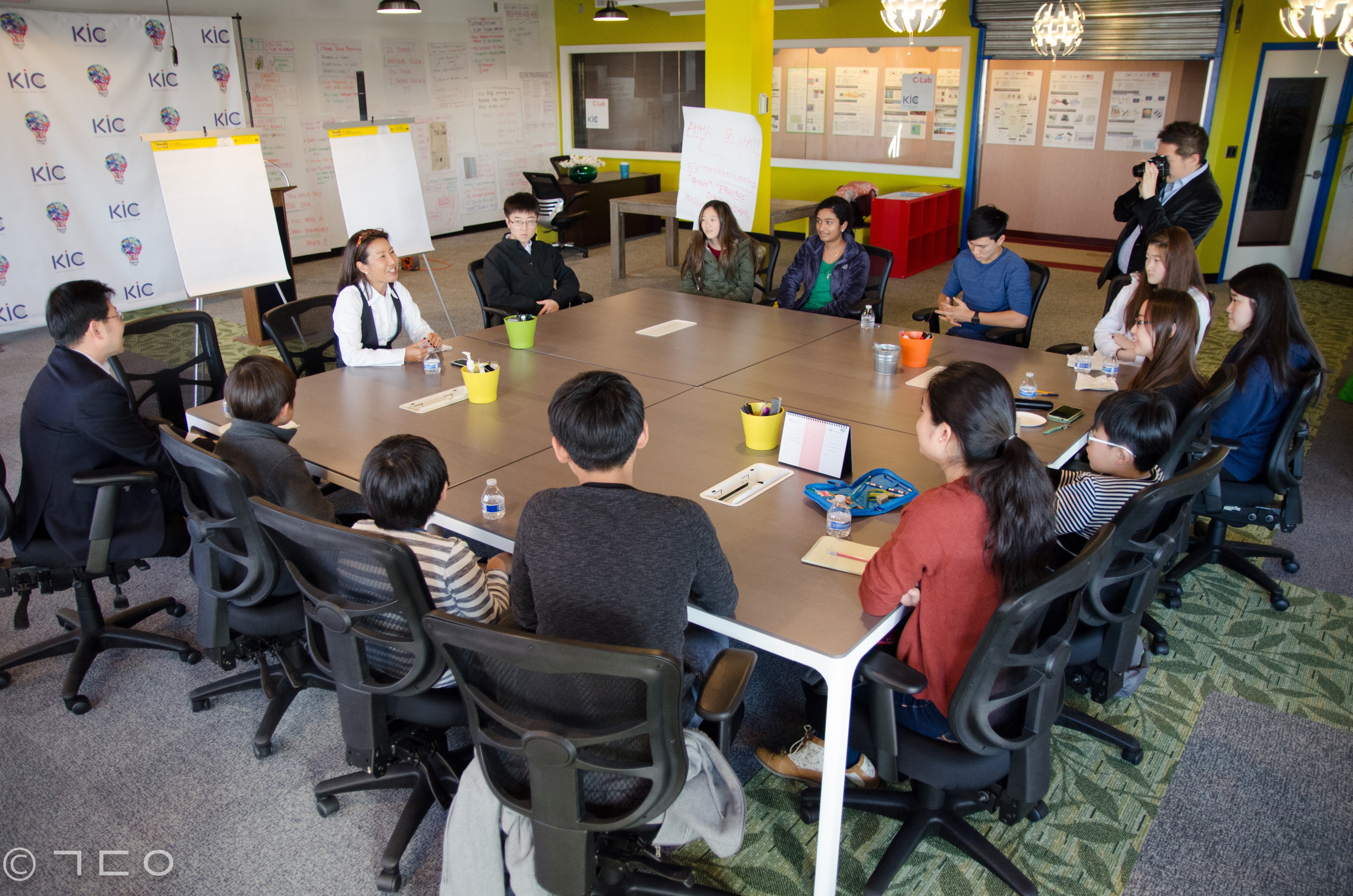 Ms. Jeannie Diefenderfer
former Senior Vice President, Verizon
from students' reflections
"...following our passions with determination and ambition is a sure path to success in life."
"...She gave many pieces of invaluable advice, and one in particular - "take your work seriously, not yourself" - really hit home. I will aspire to excel in everything I do, not for the purpose of pleasing people or of proving myself, but because I want to be proud of the impact that I make through my work."
"...She was really nice and listened to everybody's ideas and thoughts, as well as questions and connections...If I ever become as successful as her, I will come to some sort of event like this one. A event that encourages kids to follow their dreams..."
2015 September, Startup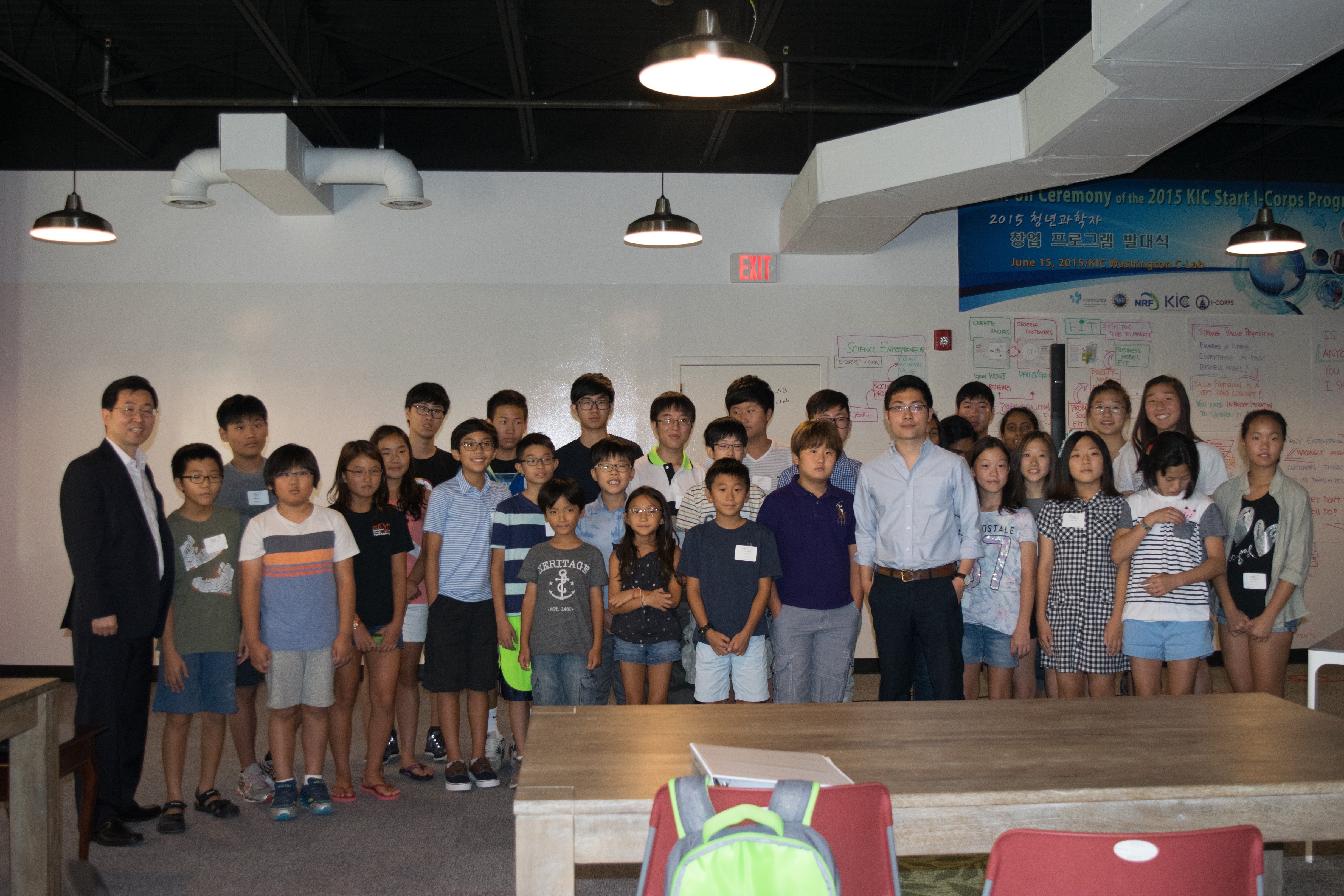 MR. Tim Hwang
Founder and CEO, FiscalNote
(CNN Top 10 Startups 2014)
from students' reflections
"...Yesterday's program really reached out to me, whether it be that the speaker was such a young, yet successful and ambitious person, or that the milieu was filled with individuals from immigrant families, just like me."
"...Though Mr. Hwang did not say this directly, I can infer that since people trusted Mr. Hwang, he had to trust himself which is what I think I should do."
"...All of us could relate easily to Tim as he was just a few years older than us and attended schools in the VA/MD area. "
"...I was very interested in hearing Mr. Hwang's story, especially how he was able to integrate his two passions, law and computer science."
"Mr. Hwang also said that when he was a child that he considered being someone like a doctor, who could change the lives of many people. But instead, he wanted to work for the government and change the lives of many more people. He then later learned that, using technology, he could go to the next step and change (impact) the lives of millions of people all around the world."
2015 July, TALK 2015 Intern Research Project presentation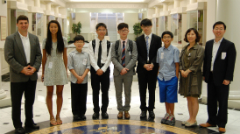 Senator Douglas J.J Peters, Maryland State
[Flyer]
[Presentation Materials]
TALK hosted a special program at the City of Annapolis, Maryland(Miller Senate Office Building, 3 West Wing 11 Bladen St., Annapolis, MD 21401). TALK 2015 Summer Interns presented their research findings in front of Senator Peters.
2015 May, Assistive technology

Professor Yoosun Chung
Assistive and Special Education Technology
George Mason University
from students' reflections
"...She shared with us the importance of overcoming obstacles in our lives by trying our hardest to surpass them... and to never think that we are inferior to others in any way because of any disabilities or disadvantages we might have."
"...I learned that it's okay if you're not first but it isn't okay to give up because you think you can't do it... I learned that whatever the world throws at you, life is worth the struggle."
"...Emotional and full of courage... from years of hard work and experience living with a disability."
"...She has cerebral palsy... I learned from Professor Chung's two life mottos("when there's a will, there's a way" and "Heaven helps those who help themselves") that miracles do not happen by themselves; effort is required."
[More about Prof. Chung in English]
[More about Prof. Chung in Korean]
2015 March, Politics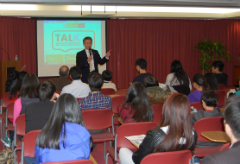 Special Secretary Jimmy Rhee
Maryland Governor's Office of Minority Affairs
Special Secretary Jimmy Rhee, Maryland Governor's Office of Minority Affairs, was the speaker from the Politics field. We extended the invite to Korean-American, Chinese-American, and Indian-American communities.
from students' reflections
"...I can say without hesitation that it has been one of the most inspirational sessions I have attended. Secretary Rhee incorporated the idea of passion into his career success, and encouraged all of us students to do the same."
"...After having the opportunity to speak with you, I am inspired by your message and personal experiences and I am even more committed towards obtaining success for myself, in my own life."
"...dedicated and persistent people with good hearts... I also learned that people decide who their family is. To some people it is their close family and friends but to other people such as Dr. Martin Luther King it is everyone... I realized that you have to know something to lead or you are like a blind man trying to lead another blind man... I learned many things that will greatly help me in life later on."
2015 January, Business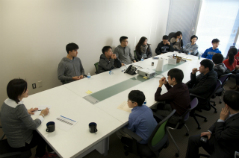 Ms. Sophia Parker
Founder and CEO, DSFederal
(Fast 50 Asian American Businesses)
from students' reflections
"...I learned the importance of having a good relationship with one's parents, and how that is crucial towards one's success in this world...how important it is to do something you love and to help your community through your actions...it is important to keep a positive image and to be trustworthy."
"...Although success can be obtained through individual hard work, it is important to realize and understand that our parents sacrificed for us to give us an equal footing, a chance at fulfilling our dreams."
"...I've learned that I should remember my background, culture, people around me, and maintain my friendship as well."
"...You should always honor your family and culture, remember to not forget your background, and remember everything is not always about you."
"...I've been having this internal crisis for a while. Maybe it's because I'm at a point in life where decisions have to be made. I no longer have time to experiment, to discover what I enjoy. I feel like I am in the wrong place, pursuing the wrong goals, realizing too late that I really don't enjoy A and would rather do B. And the worst part is, I don't know if I'm just being lazy or if my calling is truly elsewhere. Or am I afraid of working harder, because there will always be someone better? It's this endless cycle of self-doubt and seemingly unrealistic ambitions. It's people like Mrs. Parker who give me hope. If you can start a business at 51, I can surely do whatever I want at 16. I just need to find my passion."
2014 November, Government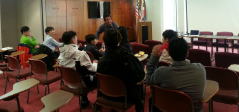 Mr. Daud Santosa
Chief Technology Officer
US Department of the Interior - Interior Business Center
from students' reflections
"...I realized how important it is to have a dream for your future...A dream is the inside strength in you that helps you overcome difficulty...A dream will keep you in the right direction until it becomes a reality...Before I attended this talk, I thought that dreams were insignificant. I thought that they would just crumble next to the harsh face of reality. After I attended this talk, I have realized that dreams are powerful and are the way to experience a bright future."
"...Mr. Santosa said, "Yesterday's success ended last night. What are you going to do today?" This really inspired me because I know that I can do better everyday and learn more."
"...Everyone needs a dream, a spiritual strength in the dream, and a mentor...I need to work hard to find where I have a potential, and work hard in that area."
2014 October, Technology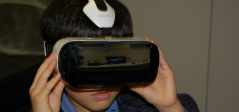 Dr. Mingu Lee
Vice President, Samsung SDS America
from students' reflections
"...Took me to a different world. .....Encouraged me to think about my future."
"...Helped me realize that the future is being decided now."
"...Besides being just informative, today's presentation was really fun."